WBS Behavioural Science group's first Summer School
05 September 2013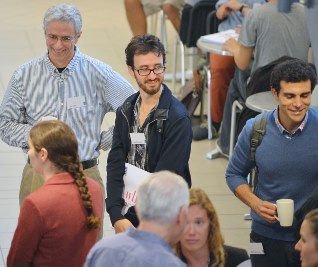 During the last week of August, members of the WBS Behavioural Science group hosted their first Summer School on the Warwick campus. They were joined by 40 delegates from 21 institutions covering six countries including France, Germany, Israel, South Africa, the USA, and of course the UK.
Titled Decision Making under Uncertainty, the event offered an exciting programme that consisted of fourteen sessions over five days covering a broad range of topics. In addition to presentations by WBS Behavioural Science faculty, the programme included presentations by such distinguished speakers as Professors David Schmeidler, from Tel Aviv University and Interdisciplinary Center Herzliya, and Robert Chambers of the University of Maryland, College Park.
In between the formal presentations were regular opportunities for discussion, which together with a mid-week afternoon at nearby Warwick Castle and Stratford-upon-Avon, provided a good balance to the week and ensured a productive and enjoyable experience for all participants.
Professors Tigran Melkonyan and Zvi Safra were in charge of organising the Summer School. They commented, "Being one of Europe's leading groups in Decision Making, we were able to attract talented young researchers from around the world to the Summer School at WBS. The participants learned about a number of promising developments and directions in the area of decision making. This Summer School provided a great opportunity to exchange ideas and to network face-to-face with young researchers from around the world."
About the Behavioural Science group at WBS
The group focuses on the interaction between the natural science and social science approaches to understanding behaviour. It is highly interdisciplinary, using methods drawn from psychology, economics, philosophy, mathematics and statistics. The group conducts basic research, and is also heavily involved in applications for business and policy. Faculty in the group teach across many of the degree courses at WBS.