WBS Distance Learning MBA ranked second in the world
09 March 2015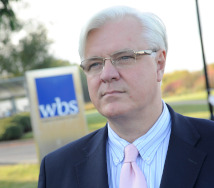 In the Financial Times global ranking of Distance Learning MBAs Warwick Business School retains its place as first in the UK and second in the world.
Only accredited business schools are invited to participate, with only the top 15 schools ranked. This is the second year the Financial Times has undertaken a Distance Learning/Online MBA ranking.
WBS is placed in the global top five in 11 out of the total of 18 individual criteria which contribute to schools' overall ranking position. The average salary earned by Warwick MBAs three years after graduating is the third highest in the world.
Dean of WBS, Professor Mark Taylor, said: "This Financial Times ranking is a welcome recognition of the quality and efforts of our faculty and staff, our MBA graduates, and our corporate partners.
"I was especially pleased to see how highly our graduates rated their MBA, placing us fourth globally for Value for Money and Career Services, while our ranking as third in the world for both Career Progress and Aims Achieved is proof of the career success of our talented and hard-working MBAs."
The full global ranking on the Financial Times' website can be viewed here.
Find out more about the Warwick MBA.