WBS launches the Gift of Knowledge campaign
05 December 2013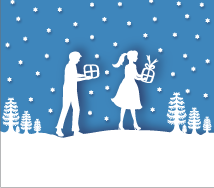 Every weekday between 2-20 December Warwick Business School are giving away a gem of business knowledge for free. Giveaways include articles, films and downloads which showcase some of the most interesting pieces of research to come out of WBS this year.
On launch day we gave away our first gift which focussed on Apple's 'quantum strategy'. With the elves working overtime to deliver shiny gadgets to people all over the world at Christmas, what is Apple's secret to constantly innovating and redefining the technology market? Go to 'Gift one' here to find out.
The second gift is about how businesses can measure the effectiveness of their corporate social responsibility. Without necessarily being able to see a return on investment, can businesses really see the benefits and is it worth it anyway? Go to 'Gift two' here for an expert opinion from Professor Kamel Mellahi.
Gift three is about music and 'Tuning up your leadership skills'. What can jazz teach us about leadership and how can we achieve the sweet sound of success in the coming year? Click here where your gift is waiting.
And while you are there don't forget to watch our beautiful festive film created in-house at WBS in conjunction with animator Jim Le Fevre.