WBS hosts Youth To Change Leadership Conference
15 March 2016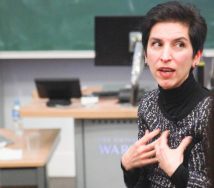 More than 200 students attendent AIESEC Warwick event
Youth to Change Leadership conference focused on inspiring leaders
Topics revolved around entrepreneurship, technology and education
Speakers included Marcus Orlovsky, Susanne Chishti and Mahnaz Safa
More than 200 students were in attendance as AIESEC Warwick, with the generous support of WBS, hosted a conference designed to develop globally minded, forward-thinking and inspiring leaders.
The Youth to Change Leadership Conference focused on empowering students to take action on pertinent global issues as well as helping them truly understand what it takes to be a 21st century leader.
Brandon Chung, Vice President, AIESEC Warwick, believes that in the hyper-connected and globalised world today, there are increasingly complex challenges across different geographic regions, countries and industries.
He said: "These complex challenges require disruptive and innovative solutions, and our world requires exceptional leadership. AIESEC's belief is that responsible and entrepreneurial leadership can help us solve many of today's challenges.
"Leaders who not only have the capabilities to create impact, but also the values that will guide their ethics and decision-making. We believe in changing the world not only from the outside, but also from the inside through the leaders we develop."
The conference, held on February 13, tackled issues in three main areas, entrepreneurship, technology and education. These sectors were specifically chosen as key sectors that will drive the world of tomorrow.
AIESEC Warwick believes in inspiring youths to reach their fullest potential, thus the organising committee explored various mediums to enlighten students.
The conference included three keynote speeches, a panel discussion, networking lunch and workshop sessions where students were given the opportunity to learn from external speakers and discuss ideas in a closer space.
The speakers included Marcus Orlovsky, Susanne Chishti and Mahnaz Safa.
Marcus Orlovsky is an international TEDx speaker and host, as well as a social entrepreneur with a passion for education. Today, he is the founder and director of Bryanston Square, an organisation that creates positive impact on students across the world.
Marcus Orlovsky said: "I really enjoyed myself and seeing the work Brandon did and the great team he assembled. The curation and execution was really first class!"
Susanne Chishti is the CEO and Founder of FINTECH Circle, Europe's first Angel Network focused on FinTech.
At the conference, she addressed the students about her journey as an entrepreneur, the lessons she has learnt along the way and how she has developed as a leader.
The third and final speaker was Mahnaz Safa, the Managing Director of Citi EMEA Corporate and Investment Banking.
As a veteran in the banking industry, Mahnaz has seen how it has transformed throughout the years. She was named as one of Financial News' Top 100 Women in Finance for EMEA in 2010, 2013 and 2015, and has also been profiled in Brummel Magazine as one of the City's most influential women in 2010.
Before giving an insight about the leadership skills required in the finance industry, Mahnaz first talked about her personal experience and the path that took her to success. She finished her speech in a more technical note and explained the reasons behind FinTech startups' success.
"As a global student-led organisation with a presence in 126 countries and territories, AIESEC has the vision and ability to develop youths to unimaginable heights," added Mr Chung.
Azim Mia, a member of the organising committee said: "The Youth To Change Leadership Conference is our first large-scale opportunity to demonstrate the university AIESEC's mission and I am very enthusiastic to see what comes up next! It was a fantastic learning experience and I thoroughly enjoyed it."
Find out more about University of Warwick societies on the Student Union page here.