Most improved business school in the UK
03 December 2012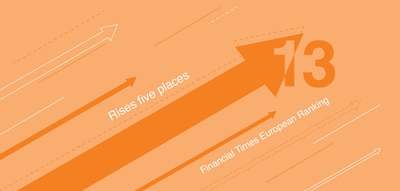 In a ranking of 80 top European schools, published today (Monday 3 December) by the Financial Times, WBS has improved its ranking by 5 places, and is the most improved school of all the 20 UK business schools which featured in this ranking.
Only seven UK schools are featured in the Top 25; WBS is placed 13th overall, and 3rd in the UK, behind only London Business School and Oxford University's Saïd Business School.
The Financial Times compiles this ranking from data taken from four rankings published by the newspaper over the past year, and in which WBS participated. These were for the Full-time MBA, Executive MBA, MSc in Management, and Executive Education programmes.
Dean of WBS, Professor Mark Taylor, commented, "I am glad that all the hard work we have put into improving our programmes and the student experience is starting to show in our performance in business school rankings. Our mission is to be the leading university-based business school in Europe, and although the various rankings can be volatile, our overall upward trend over the past year is good news."
See all Warwick Busines School's rankings here