WBS's new magazine Core - contemporary business with a twist
24 April 2013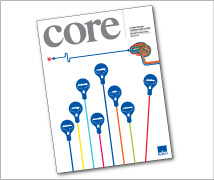 In an age of information overload getting to the heart of what makes a successful business is essential.
Warwick Business School's new magazine Core does just that, stripping away the mundane and banal to reveal the fundamentals. Download a copy here.
The first issue of Core delves into one of the most successful companies on the planet, Apple. Loizos Heracleous discovers the technology giant has developed what he terms a 'Quantum Strategy' to power it to the top.
Tobias Preis has been using another technology firm, Google, to find the 'digital traces' that our everyday behaviour leaves behind. Crossing the divide from physics to finance, Preis finds that the huge amount of data at sites like Google Trends can predict some human behaviour.
In the digital age, Deniz Ucbasaran and Andy Lockett reveal that jazz still has plenty to teach us, especially in terms of leadership. Looking at legendary band leaders like Miles Davis and Duke Ellington they have found some lessons that chief executives would do well to heed.
Dawn Eubanks looks at leadership from a different angle, detailing the shared roots of Nobel Prize winners so that we can follow their paths.
If business is to drag itself out of the ongoing economic slump innovation will be crucial. Jonothan Neelands explains just how vital creativity is to a company, insisting it "unlocks and reconfigures the social and economic building blocks of a new era."
Qing Wang reveals how companies can grasp the opportunities of China's rapidly growing economy, while Nick Chater gives a new perspective on economics through his Behavioural Science Group and tells us how the UK Government is using his insight in the 'nudge unit'.
Sohnke Bartram navigates his way through the mysterious world of derivatives, while Kamel Mellahi explains just how nonmarket strategy works.
Gerry McGivern is now using his research into the NHS by helping save babies' lives in Kenya, while David Elmes and Monica Giulietti give their take on the factors making the global energy sector ever more complex.
Stephen Roper's research into mid-market companies reveals just how important they are in pulling the UK out of its current slump. Paul Kehoe, CEO of Birmingham Airport, details how infrastructure is crucial to a local economy and Angela Fitzpatrick, founder of the Reel Fish Company, gives inspiration to aspiring entrepreneurs as she tells her story of getting an idea on the supermarket shelves.
Ed Gardiner talks us through a day at the newly created Behavioural Design Lab, and Pietro Michelli blows open the seven myths about performance management.
Getting to the heart of matters is Core's objective, but you will find it does it slightly differently, it's contemporary business with a twist.