WBS magazine Core, edition 3 now available
24 September 2015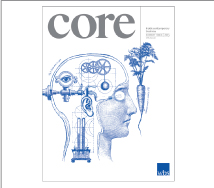 From Twitter to NASA, Apple Pay to Diversity in the boardroom, the latest edition of Core is now available and features articles on those subjects and much more.
How is the financial crash still haunting us? What is the entrepreneurial mindset and do you have it? Can 'brain drain' be a positive thing? All of these questions and many more are answered in the third edition of Warwick Business School's annual magazine Core.
Leadership features prominently in this edition of Core as Hari Tsoukas discusses how to lead wisely, something we are all capable of doing with the right mentality.
Dawn Eubanks also discusses whether a leader can be determined by their facial features alone warning off a "subconscious" bias.
On the topic of bias, Kim Hoque suggests boardrooms are destined to remain white male focused unless the Government adds an "element of stick as well as carrot" to get companies employing more diversely when it comes to top level positions.
People also have a misconception of boardrooms as emotionless meetings, however, Feng Liu found that is far from the truth and encourages individuals to let it go even more in the boardroom.
One emotion vital to a successful company is happiness, and Chendi Zhang suggests "happy employees are beneficial for the firm and shareholders".
John Thanassoulis, Georgios Voulgaris and Onur Tosun discuss executive pay, with Thanassoulis suggesting a "cap on the total bonus pool" to help improve financial stability.
Away from the boardroom and onto the realm of smartphones, Sotirios Paroutis discusses investing in the likes of Twitter and other social channels. Facebook has "changed the way investors think about the success of a firm," Paroutis suggests.
WBS has now established a new location, WBS London at The Shard. Irvine Sellar, the property developer behind the iconic skyscraper, talks through the design process.
Meanwhile, Loizos Heracleous discusses how a shift in strategy is vital for NASA in the face of private companies like Richard Branson's Virgin Galactic and Elon Musk's Space X muscling in on space travel.
Among the leading business articles there is also a city guide on Rio, an interview with Rolls Royce CFO David Smith and a day in the life feature with Birmingham Airport's COO David Winstanley.
Copies are on sale from Warwick University Bookshop, and online here, and are also now available in WH Smiths outlets in the UK.
Download the second edition of Core for free.
Download the first edition of Core for free.