WBS mentor wins British Indian leadership award
25 September 2018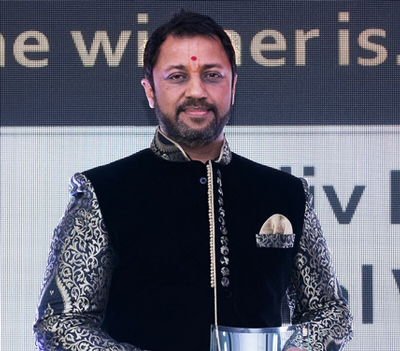 Sanjiv Patel won Influential Leader at the British Indian Awards
WBS Mentoring Programme has helped more than 750 students and alumni
Sanjiv extended the award-winning programme to Singapore in 2016
His charity work includes recruiting 500 people as potential stem cell donors
Sanjiv Patel spends his days offering sound financial advice through his firm Integral Wealth Management, helping his clients to achieve their business and personal goals.
Outside work he uses the same skills to help fellow entrepreneurs pursue their dreams as Associate Fellow of Warwick Business School and Co-Chair of its Mentoring Programme.
The award-winning programme, which is heading to India, has helped more than 750 students and alumni. Under Sanjiv's guidance it launched its first pilot outside the UK in Singapore in November 2016.
It proved such a success that Sanjiv hopes to extend the Mentoring Programme to India.
Sanjiv, who earned an Executive MBA from WBS in 2007 and became a mentor two years later, has now been recognised for his global leadership, winning Influential Leader at the British Indian Awards.
Sanjiv, 51, from Leicester, said: "When I was studying for my MBA, I loved every minute of it, bouncing around ideas and business opportunities.
"Part way through that, I got involved in a start-up that really was a rollercoaster ride. I found myself having to make life-changing decisions and business critical decisions all the time.
"The landscape at this end of the spectrum never stands still. Often I had no-one to turn to because I wanted to shield my nearest and dearest from those difficult choices and it was the hardest period of my life.
"If I'd had somebody to turn to as a sounding board outside my usual circle of friends and family who had been through that rollercoaster themselves, I probably would have made some different choices and avoided some of the turbulence I went through.
"That is why I was delighted to become a mentor. Inspiring people, especially younger people, and helping them to reach their potential has always been very important to me.
"I never expected to win an award for my work as it is just 'what I enjoy doing'. It was very humbling. This award is not just for me, it is for all the people I work with every day and the fantastic things they have achieved.
"My compass genuinely is based upon the message of my guide and mentor Pramukh Swami Maharaj, which is, 'in the joy of others lies our own, in the progress of others rests our own'."
Sanjiv is also head of outreach for BAPS Charities in Leicester and was part of the team that helped build the city's BAPS Shri Swaminarayan Mandir Hindu temple, which opened in 2011.
Through his charity work he recently helped recruit 500 people to the stem cell donor register to save six year-old Kaiya Patel, from London, after she was diagnosed with leukemia. The worldwide recruitment drive eventually found a matching donor for Kaiya and she had her lifesaving transplant in August.
Andy Lockett, Dean and Professor of Strategy & Entreprenuership at Warwick Business School, said: "I cannot think of a better person to win the Influential Leader award. Sanjiv is a real leader of people, is selfless to the core, and has huge global reach and influence through his work for the school. He is a true leader among our alumni community and we are very lucky to have such a dedicated individual."
Kamal Nandha, a management consultant at PA Consulting in London who was mentored by Sanjiv, said: "Sanjiv lives his philosophy of helping others in everything he does. His belief in my potential motivated me to pick myself up after suffering a business loss.
"His concern was genuine and his advice was substantial. As a result, I went on to set up two companies, one of which was nominated for the new business of the year award."
Sanjiv was presented with his award during a ceremony at St Johns Hotel in Birmingham.