WBS Mentoring Programme wins national training award
04 December 2013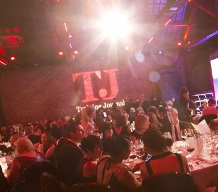 The WBS Mentoring Programme team entered for the first time this year in the national Training Journal Awards, now in its eighth year. The team members were delighted to hear in October that following a stiff interview before a panel of judges they had successfully reached the final.
Last week the final was held at a Gala Dinner in London, where the WBS team celebrated winning the Bronze Award. They were competing against Ceuta Healthcare Group, Gateshead College, City Hospitals Sunderland and the Newcastle Hospitals, employment agency REED and house building firm Taylor Wimpey for the award. Sixteen categories in total were open to entries from across the whole spectrum of industry, commerce and the public sector, and from organisations of all sizes.
The team members are delighted that all the hard work from the hundreds of volunteers who have contributed to the Programme over the past four years has been formally recognised with this national Award from a long-standing and leading business publication. Feedback from the Judges put the Mentoring Programme in perspective:
"We've been impressed by the fact that you've been able to establish, sustain and develop a successful and attractive large-scale, international mentoring Programme run by and with volunteers."
Further information
The two-year WBS Mentoring Programme has seen more than 350 students and alumni gain support and guidance from senior businessmen and women who are themselves alumni of the School. The mentors volunteer their time to give independent advice on a whole host of different subjects, and provide support face-to-face, over email, phone or Skype.