WBS named number one for management in the UK
14 July 2017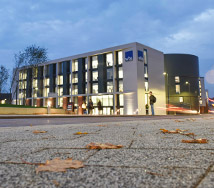 Global ranking finds WBS the best for management in the UK
ShanghaiRanking also placed WBS in the world's top 30
The school also rated sixth in UK for finance
Ranking reflects world-class research produced by academics
Warwick Business School has been ranked number one in the UK for management and in the world's top 30 by a global ranking.
ShanghaiRanking's Global Ranking of Academic Subjects assessed 52 subjects across more than 4,000 universities around the world and placed WBS first for management in the UK and 28th in the world.
The ranking measured the research outputs of universities from 2011 to 2015 and found WBS academics among the world's leaders in the field of management.
Andy Lockett, Professor of Strategy and Entrepreneurship and Dean of WBS, said: "This ranking is testament to the world-leading research that WBS academics generate.
"Curiosity is a key part of our culture, and that restless thirst for knowledge is something we encourage among all our staff and students."
The ranking was heavily informed by the number of research papers authored and how many of those were published in top journals, with the impact of the research through citations and the percentage of internationally collaborated papers authored by an institution also taken into account.
"The world-class research undertaken by our academics flows directly into the classroom and means our students are able to access the latest thinking in their chosen field," said Professor Lockett.
WBS, which opened its London base at The Shard in 2015 and is now teaching the Bank of England's staff an MSc Central Banking & Financial Regulation there, was also ranked in the world's top 50 for finance and sixth in the UK by ShanghaiRanking. The Financial Times recently named the school's MSc Finance number one in the UK and in the world's top 10.
Professor Lockett added: "We are a school with a global outlook and the ShanghaiRanking reflects our desire to attract the best students and academics from across the world.
"With cutting-edge research at the heart of our education we provide a transformational learning experience for students to realise their full potential. They will leave WBS with the very best in management thinking and practice to make a positive impact on the world."