WBS needs your vote to help 100m slum dwellers
30 April 2013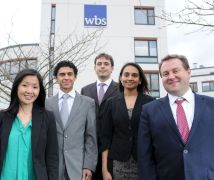 A team of five students from Russia, India, Bahrain, Canada and the UK are competing to win USD1 million of funding for their social enterprise to help slums in Mumbai in the Hult Prize Global Challenge, a competition judged by former USA President Bill Clinton.
The full-time MBA students from Warwick Business School are aiming to address the main issues that urban slum dwellers, one stage from the very bottom of the pyramid, face on a day-to-day basis.
The team consists of Supriya Mundra, of Mumbia in India, Mohamed Matar, of Manama in Bahrain, Adam Lawrence, of Solihull, Birmingham in the UK, Nikolay Samoylov, of Moscow in Russia, and Jane Kwong, of Vancouver in Canada.
They have prepared a short video to describe their comprehensive solution, which styles itself on a 'smartphone' concept. The winning video is the one that gets the most 'Likes' on Facebook and the team are using every channel they know to raise awareness of their solution to the problem.
The solution takes parts of existing solutions that are inefficient and do not work together, and brings them all together under one umbrella. The FEED model comprehensively addresses empowerment through education, renewable energy solutions, distribution and waste management problems simultaneously.
The team strongly believe their idea could make a huge difference to the lives of 100 million people in India and beyond – more than one billion people worldwide live in slums, which is unthinkable in this day and age.
The Warwick team narrowly lost out to Hult San Francisco in the previous round of the Hult Global Challenge, where they competed at the Hult Campus in San Francisco against 45 other world-leading business schools and universities, and defeated the likes of Harvard, Berkeley and Stanford en route to the final four.
"Even though the Warwick MBA by full-time study is a challenging undertaking, we strongly believe that it's crucial to apply our learning to try and help those less fortunate than ourselves," said Mr Lawrence, 34, who previously worked as a property developer.
"We firmly grasped the opportunity to help the millions of people living in urban slums worldwide with both hands."
Only one team progresses to the Global Finals in New York in September and the team are thankful for the support they have received from Warwick Business School.
Team leader is Indian Ms Mundra, who has first-hand experience of the difficulties faced in urban slums and experience in strategy consulting. Mr Lawrence has a background in economics and property; Ms Kwong is an operations and human resources practitioner; Mr Matar is a chartered financial analyst; and Nikolay Samoylov is an energy professional.
To watch the WBS team's video and vote for their FEED idea click here.