WBS research wins Academy of Management award
17 August 2016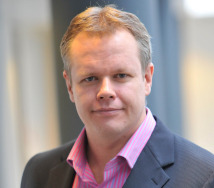 WBS academic's paper wins Academy of Management award
Kevin Morrell's research deemed 'an exemplary contribution'
Paper argues for a push away from evidence-based management
Professor Morrell argues for a sophisticated way to discuss research
A Warwick Business School academic has won an Outstanding Article award from the Academy of Management Learning & Education (AMLE).
The research from Kevin Morrell, Professor of Strategy at WBS, was one of only three papers shortlisted, and was a joint runner-up following an extremely close vote.
(AMLE) is the premier outlet for work on management development. This is an annual award where an expert panel decides on the best paper published in the Journal over the course of a year. Professor Morrell's paper was also an Exemplary contribution – a handful of such papers are invited each year from noteworthy scholars.
"It is a real honour to receive such an award given the standing of the Academy of Management Learning & Education," said the British Academy Mid-Career Fellow Professor Morrell.
"The impact of this paper could be to signal a change in how we talk about research evidence and its relationship to management practice and learning."
The paper Against Evidence-Based Management, for Management Learning, by Professor Morrell and Mark Learmonth, of Durham University Business School, argues that we need to pursue a sophisticated relationship between management research and practice.
One way in which the paper recommends to achieve this is with a rich and diverse understanding of research 'evidence' – this includes learning from approaches from the humanities as well as the sciences.
Professor Morrell added: "The paper argues that the 'evidence-based' language which has colonised both management and politics is too restrictive and overly simplistic.
"We need a richer and more sophisticated way when talking about research which includes insights from the humanities - rather than relying exclusively on 'evidence-based' jargon that apes the methods and language of the harder sciences."
Kevin Morrell is a Professor of Strategy at Warwick Business School; he is also a British Academy Mid-Career Fellow. The research paper is available to read on PDF here. Professor Morrell's Twitter handle is @ProfKMorrell