WBS rises to second in UK in Guardian rankings
05 June 2013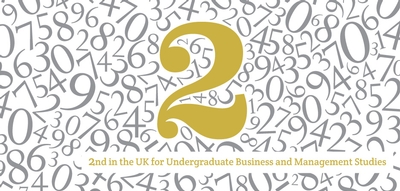 In The Guardian's annual University Guide for undergraduates, published this week, Warwick Business School has once again come second for Business & Management, behind only Oxford. WBS is placed fully 5 percentage points ahead of third-placed Bath.
The Business & Management category covers business studies, management studies, finance, accounting, marketing, human resource management and business and administrative studies and is therefore a good indicator of the calibre of the full suite of WBS undergraduate degrees.
This is the fourth consecutive year in which WBS has been placed in the Top 3 and the seventh consecutive year in the Top 5.
Professor Peter Corvi, Associate Dean for the WBS Undergraduate Programme, commented, "I am delighted to see WBS close the gap on Oxford and pull away again from the rest of the competition. Our very high ranking is testimony to the sustained efforts of the academics who teach on our Undergraduate Programme and our Undergraduate Office who do a magnificent job in administering such a large programme. All of these people work hard to ensure that the curriculum we offer is challenging, rigorous and relevant to the modern workplace. Excellent teaching is informed by the latest research so that the knowledge and skills of our students, when they come to graduate, sets them apart from graduates of other programmes. Employers recognise this."
WBS offers five single Honours degrees, and several joint degrees with other University Departments:
BSc Information Systems Management & Innovation (new for Sept 2014)