WBS shuts buildings as all lessons and staff move online
23 March 2020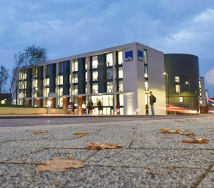 All lessons will be held online in the summer term due to pandemic
WBS shutting all its buildings including base at The Shard
University and WBS committed to protecting jobs
Staff will work remotely with guidance and support for well-being
With the UK Government asking people to work at home due to the COVID-19 pandemic Warwick Business School has decided to close all its buildings including its London base at The Shard.
As of 4pm on Friday March 20 all staff have been working remotely from home, while students have already been told that teaching will continue online for the whole of the summer term with no face-to-face sessions.
Andy Lockett, Dean of WBS, said: "As we enter a new stage of this pandemic, the UK Prime Minister shared a hopeful message that there is potential to turn the tide within 12 weeks, but only if we all play our part in taking the necessary steps to curb the transmission of the virus.
"As a result, home working is going to be necessary for all of us for the foreseeable future. We will, of course, keep everyone up-to-date as to how long this situation may persist, but at this time it is still unclear. As a school, we are putting in place all measures to ensure that business-critical activities, such as access to remote desktops, and the my.wbs servers are protected.
"To our students I say that although we are not physically in the building, we are still here for you as a school.
"Our Teaching and Learning Enhancement team are in touch with module leaders to produce tailor-made online versions of the module content. As there will be no 'in-person' exams, adjustments to assessment methods will be made and we will confirm these arrangements as soon as possible.
"Please continue to revise as planned and we will update you in the coming weeks on this."
In stressful times anxiety levels will undoubtedly rise, but students will still have access to all of the support mechanisms available at Warwick, including the Big White Wall and Wellbeing Support Services. The careers team is still very much open and will be offering advice via email, phone or over Skype. Please just email them to arrange.
Warwick Business School moves online
Those using student accommodation will be able to stay where they are while completing their degrees and will continue to have access to support services and the online library.
It is still unclear whether WBS will be able to offer a graduation ceremony for students at the end of the summer term, but rest assured the school is committed to ensuring all of its undergraduate and postgraduate students complete their courses and graduate.
As WBS works through these unprecedented times, it would like to make it clear that the University and WBS are committed to protecting jobs. COVID-19 presents a number of short-run challenges, which the school is addressing, but it continues to look to, and plan for the future success of the school.
In terms of staff well-being, with schools and nurseries closing, staff have the option of flexible working to fit around their family commitments and their personal situation. Also, the University has put together an Employee Assistance Programme to help staff feeling anxious or suffering any mental health issues, which will be available 24 hours a day, seven days a week, while employees are being encouraged to exercise and formulate a structured day to help with working in isolation at home away from colleagues.
Professor Lockett said: "We are experiencing unprecedented change, and in real time. To transition the business school with more than 500 staff and nearly 8,000 students to a totally online institution has been a huge undertaking and great credit must go to everybody involved.
"Although we have a lot of experience running courses online, especially with our Distance Learning MBA, running all our programmes over the internet will be a huge challenge logistically, for our academics and for our systems. So, please bear with us as we adapt to a new way of working; we will endeavour to be as flexible and supportive as always, but if any staff or students have any concerns or difficulties do contact us directly.
"I believe, however, that if we continue to embody the values of Warwick Business School, working together and looking after each other, we can come through this challenging time an even stronger school.
"I would like to thank all staff and students for their understanding and continued hard work in these difficult circumstances."
For more information on the Coronavirus outbreak please visit the University of Warwick's advice pages here.