WBS student aims to climb Everest
04 December 2012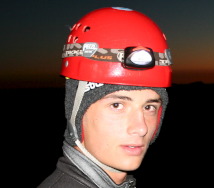 After climbing Mont Blanc at just 15 Tom Vaillant is now aiming to be the second youngest Frenchman to reach the summit of Everest.
The 20 year-old ski instructor caught the climbing bug when he scaled the French peak with his father in 2005 and went on to conquer Kalla Pattar and Chukumg Ri at just 18.
They were roughly 5,600m above sea level, with Mont Blanc at 4,800m, but the top of Everest is nearly twice as high as Vaillant's first ascent at 8,848m.
Everest has claimed the lives of more than 200 climbers since 1922, but its daunting challenge is an enduring temptation for the adventurous and Vaillant, who has trekked to its base camp before, is not put off by the dangers.
"I have always wanted to climb Everest since I was 15 and I went up Mont Blanc with my dad," said Vaillant, who lives in Leamington and is in the second year of a BSc Management degree at Warwick Business School, which is part of the University of Warwick.
"I am aware of the dangers but I am as prepared as I can be and I am excited by the challenge. More people have Olympic medals than have climbed Everest so this will be massive test for me. I will be the second youngest Frenchman to climb it.
"I have done a lot of training for this and ran my first marathon recently. I will be prepared, my only worry is altitude sickness because there is nothing you can do about it. My big fear is being sick at base camp and not being able to finish the climb.
"When I climbed Mont Blanc I remember feeling dizzy, but I carried on. I also remember Zinedine Zidane landing on the mountain in a helicopter just 500m from the top, after we had climbed all that way - but we still beat him to the summit!"
The youngest Frenchman to climb Everest is Bertrand Roche, who did it in 1990 at the age of 17. But Vaillant, who was born in Paris, will have the added complication of filming a documentary as he climbs the world's tallest mountain.
"I am combining my two passions in one adventure," said Vaillant, who helps run film production company Rockline Pictures. "The feature-length documentary will be called Awe and will seek to portray the emotional journey which a team of climbers encounters on their struggle upward, and forever upward, towards the summit of the world.
"But we won't use the usual melodrama that is part of a documentary about climbing a mountain. It will simply be stunning images, underscored by a narrative voiceover and a beautiful soundtrack to create a moving experience. It will be as close to the adventure you can get without actually jumping on a plane!"
Vaillant, who has already filmed two 40-minute documentaries called Far Out and A Higher Life during a three-month solitary hike around Asia, will begin the climb at the beginning of April and he is expecting it to take two months.
Find out more about our BSc in Management degree.