All the world's a stage for WBS
28 May 2014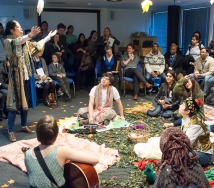 For the modern English-speaker Shakespeare's plays can often be challenging to decipher, so imagine how difficult it is for a Chinese student when faced with the Bard's writings.
Vicky Zhe Qu, 25, who is studying MSc Management Science & Operational Research at Warwick Business School, went one step further and decided to perform in a production of Shakespeare's As You Like It.
Vicky says: "English is not my first language and Shakespeare is like an alien code for me!"
Despite the difficulty of understanding Shakespeare's text, the magic of his storytelling still shone through for Vicky and her fellow actors taking part in the performance.
"I learned how to be myself during the activities," says Vicky, who played Le Beau and Duke Senior in the play. "In the first term rehearsals we didn't really touch the lines, we only felt the theatre."
At Warwick Business School the Arts have an important place in teaching at all levels, using creative techniques to encourage learning and develop the art of making informed decisions in the business world. This was certainly reflected in Vicky's preparation for the play, which she analysed in minute detail.
Vicky says: "I thought it was going to be interesting because I wanted to know not only about the performance itself, but the process of making it. I watched videos of the play on YouTube to find out how other people performed it and tried to see how they stressed some words and the tones they used.
"I feel that I've applied what I've learnt on my course onto the play, analysing the whole process in detail to see how it works, to get the best result. I also learned that I like making friends, and to have the confidence to speak in public."
Fellow student Nandini Sehgal, 22, from Thailand, also feels she has gained a lot from taking part in As You Like It, while studying her MSc Marketing & Strategy.
"I was really overwhelmed at first because I had a lot of lines to learn," says Nandini, who played the exiled Rosalind in the Forest of Arden. "But what really helped was when we practiced among the group people would actually help us to translate and make sure we could understand what was going on, so when you understand the scene then it helps with the lines.
"I think what I really learned was to work with people from different backgrounds, because a lot of us were from all over the world. We would meet once a week and I looked forward to meeting them because it felt like such a good stress reliever."
But does creative learning and self-expression really make a positive impact on the next generation of global business leaders? Jonothan Neelands, Professor of Creative Education at WBS certainly believes so.
Professor Neelands says: "It gives students the confidence, resilience, communication and presentation skills that are essential to their employability and future success.
"WBS Ensemble is a multi-national team that develops and stretches a student's problem solving and inter-personal skills and sensitivities. They work together towards and manage a performance which is also a complex and multifaceted project.
"From a more personal perspective students gain from their engagement with Shakespeare and the art form of theatre and will remember this unique social and cultural opportunity to perform the work of one of the world's most loved and admired playwrights. Our hope is that in becoming artistic actors our students also become more effective social actors - doers and shapers."
As one of As You Like It's most famous lines says 'all the world's a stage,' including the business world where being confident and creative can give you an advantage.
"I was afraid of public speaking," says Vicky. "But after performing I feel I have the confidence to speak out."