Students wow with Marissa Mayer Yahoo! case study
30 June 2016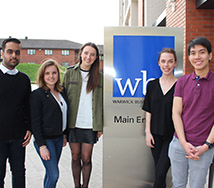 WBS undergraduates impress with study on Yahoo's Marissa Mayer
Case study was part of Critical Issues in Management module
Winning team beat 84 other syndicate groups
CIM is mandatory for all final year students
With Yahoo! boss Marissa Mayer under fire and the Sillicon Valley-based company in talks with buyers a group of undergraduates students have put together a compelling argument on her reign as CEO.
Their analysis, conducted as part of the core undergraduate Critical Issues in Management (CIM) module, won them Best Case Study Analysis, awarded for the first time.
The students – Giulia Calcabrini (BSc International Management), Marta De Sousa Fialho (BSc International Management), Sean Philip Lim (BSc Accounting & Finance), Karanjit Singh (BSc Accounting & Finance), and Lucy Warner (BSc Management) - beat 84 other syndicate groups.
On behalf of the team, Giulia Calcabrini said: "We are delighted to hear we came first in this project. We are extremely proud to receive this award.
"We would like to thank our teachers Maja Korica and Camilla Maclean and the entire CIM teaching team for making this module highly interesting, engaging and intellectually stimulating, as well as for recognising our work through the award."
They were presented with individual prizes of Warwick branded merchandise in front of 400 cheering students.
As part of CIM, which is a mandatory module for all final year undergraduates, the students had to work on analysing a range of topical case studies written specifically for this year's module.
The winning team's case study asked them to critically assess Mayer's tenure as head of Yahoo, since her appointment in 2012.
They also had to put together an academically-informed plan on how the board should approach its decision regarding Ms Mayer's position going forward, as well as propose their own verdict.
Dr Maclean, Senior Teaching Fellow, added: "The group's presentation argued in quite a nuanced way that it was important for Mayer to be assessed for performance in her specific and very difficult context, not for things she had little control over.
"It identified several key aspects, including unrealistic expectations of CEOs more broadly, and alternative measures of performance.
"They also presented a detailed plan for a private buy-out of the firm to remove short-term pressures, with Mayer supported by new executive recruits. Overall, this was a truly outstanding piece of work, in which the students offered a genuinely interesting, thoughtful and innovative set of insights."
Organised around intense discussion-based seminars and topical group case study analysis, the CIM module aims to develop critical thinking, research and analytical skills that are recognised as key by employers and educators alike.
Module leader Dr Korica, Associate Professor of Organisation and Human Resource Management, said: "Though we try hard to make this module interesting and engaging to students by being relevant and interactive, for us the module also has an important broader aim.
"This is not just to equip our finalists with crucial skills they will take into the workplace, but also to help them develop toward being thoughtful, critically informed and considered in their jobs - the kind of future business leaders the school aims to build."
Alongside its innovative nature in combining critical skills with practical relevance, the module has also been continually recognised for its quality of teaching.
This year, three of its seven seminar tutors were nominated as part of the university-wide Warwick Awards for Teaching Excellence: Dr Jude McNabb and Dr Korica, with Dr Maclean winning an award.