WBS team win £4,500 Case Challenge on sepsis
18 May 2017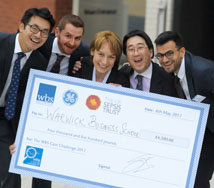 150,000 cases of sepsis reported in the UK each year
Students tasked with designing new interventions
Initiatives ranged from a self-testing chair to baby delivery kit
Judges won over by social enterprise idea
Eleven teams from universities and business schools around the world were given the task of designing a new intervention to change the way sepsis is managed.
According to The UK Sepsis Trust, every year in the UK there are 150,000 cases of sepsis, resulting in 44,000 deaths - more than bowel, breast and prostate cancer combined.
Septic Think Tank's plan to build a social enterprise to prevent skin infection in children won the judges over and earned Satoshi Hori, Sean Fang, Carlo Risi, Zaid Al-Najjar, Vira Rusachenko and Kiran Sodhathem £4,500.
Director of the WBS Case Challenge and MBA student Ashima Goyal said: "Thank you so much to the teams that took part and to the judges that shared their knowledge with participants. Sepsis is a huge challenge for healthcare organisations around the world and we hope that this competition has created awareness to the dangers it can bring.
"The UK Sepsis Trust do a wonderful job in raising the profile of the problem and it was a great pleasure to work with them on the case challenge, bringing some of the brightest young minds together to create innovative new ideas to get to grips with some of the issues surrounding the disease. "It was a delight to see the enthusiasm of the students involved in what was a great opportunity to network and learn from experts in the healthcare industry.

"Finally, congratulations to Sepsis Think Tank, a Warwick Business School Executive MBA team. The judges had a very difficult decision with so many interesting proposals, but Septic Think Tank emerged as the clear winner."
WBS partnered with The UK Sepsis Trust along with GE Healthcare, GE Healthcare Finnamore and The Stocker Partnership for this year's challenge.
Prior to arriving teams were asked to research the sepsis care in healthcare systems around the world and present their findings on the key pressure points and challenges on a poster.
Team UP Inc, of Panamerican University in Mexico, were judged to have the best poster with Pedro Pablo Mendoza Vargas, Janeth Venzor Carbajal, Andres Villegas Covarrubias, Marcela Coronado Pacheco, Fernando Hinojosa Chavolla and Ana Cristina Nunez Ruiz Velasco picking up the prize.
After briefings from industry experts and The UK Sepsis Trust the students, which also included teams from Spain's IE Business School, Canada's Alberta Business School, SDA Bocconi in Italy, Lancaster Business School, Norwich Business School, Alliance Manchester Business School and Cranfield School of Management, spent a day developing their concepts.
After reviewing initiatives ranging from a self-testing chair to a baby delivery kit for midwives in Sub-Sahara Africa, WBS, Alberta and Aston were selected for the final where they were given an hour to deliver another presentation.
The six judges chose WBS as the best solution, with the winners donating £500 of their prize money to The UK Sepsis Trust.