WBS to explore the impact of theatre on children's lives
05 March 2013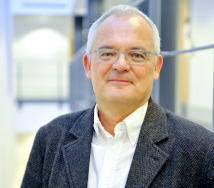 Warwick Business School is to investigate the impact of an innovative attempt by Birmingham Repertory Theatre to create theatre-goers of the future and see how theatre has changed the lives of hundreds of children involved.
Birmingham Repertory Theatre's ground-breaking project, REP's Children, offers all babies born in City and Heartlands hospitals during the theatre's 100th birthday week (February 11 – 17 2013) a free theatre experience every year for the first 10 years of their lives.
The project will begin with the newborns and their families making their first visit to the newly reopened Repertory Theatre in October 2013, for a brand new theatre production called Open House, an interactive and sensory show created especially for babies. REP's Children aims to engage families and children with theatre, and create a lifelong relationship between local people and The REP.
The first REP's Children project was launched in October 2004 at City and Sandwell Hospitals and The REP now has 140 REP's Children families who regularly attend events and performances at The REP.
Now Birmingham Repertory Theatre want to find out just how much the 2013 scheme will change the lives of the babies and their families involved.
They have joined forces with Warwick Business School Professor Jonathan Neelands to research the impact of REP's Children.
Professor Neelands said: "The research programme will cover 10 years and we will look to see how many of these children have carried on going to the theatre and how going to the theatre has changed their lives.
"Many of the families involved might never have gone to the theatre before. We will look at how the different families have taken up this offer and see if it has made any difference to 'cultural engagement', which is something the arts and theatres are striving to achieve. We want to find out what difference going to the theatre makes to the lives of these children.
"It is a very innovative scheme. Their free tickets are tailored for that age group. We plan to track all 10 years of the REP Children's project and have just secured an Economic and Social Research Council (ESRC) Collaborative Studentship to study the first three years of this exciting work.
"Birmingham Repertory Theatre is committed to widening participation and a sustainable future by creating future theatre-goers. We need to see how that has worked and what we can learn from the project."
Dr Steve Ball, Associate Director at The REP, said: "This collaboration provides us with an excellent opportunity to gain a deeper understanding of our communities and to evaluate the impact of this exciting intervention. We are delighted to be working with Warwick Business School who have an outstanding reputation for research in the Arts and Education."
Professor Neelands, who is Professor of Creative Education at Warwick Business School and Chair of Drama and Theatre Education in the Institute of Education, has won a grant of £40,000 from the Arts and Humanities Research Council (AHRC) to fund Dr Jane Woddis to begin the work on the 10-year study.
Warwick Business School, which is part of the University of Warwick, is one of 45 universities to be handed grants as part of the AHRC's Cultural Engagement Fund pilot scheme.
Dr Ian Lyne, AHRC's associate director of programmes, said: "The range of projects and the variety of local partners involved has been terrific. We have been hugely impressed by the number of Universities that have decided to co-fund projects."
Professor Jonothan Neelands teaches Leadership and the Art of Judgement on the Warwick Executive MBA and Forms of Identity on the Undergraduate courses.