WBS to open up Boots Archive – one of Europe's biggest
20 July 2015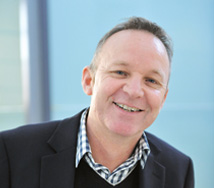 WBS academics now have access to one of the "largest and most comprehensive" company archives in Europe.
Graeme Currie, Professor of Public Management, says the Boots Archive is an Aladdin's cave of research material containing half a million items including documents, photos and objects covering the 126-year history of the company, which was founded by John Boot in 1849.
Through Wellcome Trust funding Professor Currie, who chaired the inaugural meeting of the Wellcome-Boots Advisory Board at WBS London at The Shard, believes academics of all manner of fields will benefit from access to the archive.
One of the largest in Europe
Following a Wellcome Trust research award to the Boots Archive the Wellcome-Boots Advisory Board will now recommend how it is best 'opened up' to academics and the themes that might drive research.
Professor Currie said: "The Boots Archive is one the largest and most comprehensive in Europe, housed in a single building and supported by a team of archive specialists.
"Wellcome Trust funding is designed to make it more accessible to academic study; for example through the digitisation of its content. Following the initial tranche of Wellcome Trust funding to open up the archive, there will be further opportunities to bid to the Wellcome Trust to exploit the content of the Boots Archive."
The treasure trove of archive material is, Professor Currie believes, one of the biggest corporate examples of its kind in the country.
£1 million grant
Other members of the Advisory Board include two PhD students from Warwick Business School, Gary Kerridge, a third-year student examining Boots's changing organisational identity, and Katey Logan, who is set to start examine Boots's changing relationship with the delivery of public healthcare.
Professors Roberta Bivins and Mathew Thomson from the Department of History at the University of Warwick have also been invited on to the Advisory Board.
"Organisation and management research has recently become interested in history, as evidenced by a forum on the topic within the leading journal, Academy of Management Review, as well as articles in other leading journals outside the confines of specialist journals such as Business History," added Professor Currie, who is currently collaborating with the Department of History as part of a £1 million grant they received from the Wellcome Trust to examine the cultural history of the NHS.
"The Boots archive encompasses a great deal of material that relates to topics of WBS faculty interest: for example internationalisation strategy, corporate social responsibility, delivery of accessible public healthcare, human resource management, marketing and branding, and operations management. Boots was an early mover in many of these fields in a way that may offer lessons for contemporary organisations."
Anybody wishing to access the Boots archive should contact Graeme Currie for further details.