What I did after the MBA: Sahlé Forbes
18 February 2016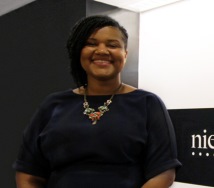 The US may be the birthplace of the MBA but many American students now opt to study at a UK business school to gain an international experience.
Sahlé Forbes left a job as District Sales Manager at PepsiCo in Florida to study the Full-time MBA at Warwick Business School in 2006 for this reason, as well as with the hope of making a step change in her career.
"I wanted to develop my skills and grow professionally and, after doing lots of research, I felt WBS was the right place for me to achieve my goals."
New opportunities and becoming a specialist
The WBS CareersPlus team work with all MBA candidates to ensure they are on track to reach their professional goals whether it is being promoted in their organisation, changing job function or starting their own business. In Sahlé's case she was looking to move into more of a specialist role.
"During my time at WBS I worked closely with the careers service to develop my CV and I attended all the company events and networking events on offer - you have to take advantage of all of the opportunities available. Modules on the MBA course such as analytics gave me the opportunity to pursue my specific interests and move into the specialist role I was looking for."
Reflecting on life after the MBA
Sahlé is now working at Nielsen, a global market research company in New York, as an Associate Client Director, and lives with her husband and young son in New Jersey.
"When I moved back to the US Nielsen reached out to me with an opportunity which was definitely the right role for me at the right time. It gives me the chance to focus on working in market research and data analysis.
"The MBA at WBS was a huge life experience for me, both personally and professionally. It exposed me to new roles within the company I was in at the time and also gave me confidence to look outside.
"The best thing about being at WBS was the lasting friendships I made. Getting to know people from different parts of the world and building up my network was really valuable."
Sahlé's advice for studying abroad
"My advice to anyone thinking about relocating to do an MBA would be to go for it! As an American moving to the UK, I stepped out of my comfort zone and got a new life experience."
Find out more information about the Full-time MBA.