What will UK university fees be for EU students in 2020?
03 June 2019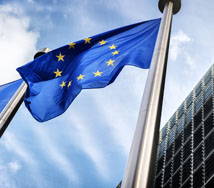 UK Government keeps EU fees at same level as home students for 2020
EU students given certainty as they look at study options for next year
More than 37,000 EU students applying for undergraduate courses in 2019
Universitites Minister says EU students can also access financial support
EU students looking to start university at Warwick in 2020 have been guaranteed their course fees will remain at UK levels.
Universities Minister Chris Skidmore has announced that EU students will continue to be funded on the same basis as home students for the duration of their undergraduate and postgraduate courses starting in the 2020/21 academic year.
It follows the UK Government's existing commitment on student finance for EU nationals starting courses in England in the 2019/20 academic year or before.
The decision has been welcomed by Karen Barker, Director of Recruitment and Marketing, who said: "This is great news for our EU students. We really value the contribution that our overseas students, including those from the EU, make to the business school.
"It is important that our students see themselves as part of a global community and learn from different cultures, that is what our international and EU students bring. As well as a diverse cohort enriching the student experience it gives them the opportunity to build a network that spreads across Europe and beyond.
"We welcome students from all over world and this announcement will provide certainty for those in the EU considering their options for starting university life in 2020/21."
EU students will not only benefit from home fee status, but will be able to access financial support as well.
Warwick Business School provides Undergraduate courses in BSc Accounting & Finance, BSc International Business, BSc International Management and BSc Management as well as a host of Joint Degrees.
How much does it cost for EU students to study in the UK?
UCAS Undergraduate applications are now open for 2020 entry with course fees currently set at £9,250 per year. The school also runs 16 postgraduate courses, with fees varying.
The latest 2019 application cycle data shows more than 37,000 EU students have applied for full-time undergraduate courses in England - an increase of 1.9 per cent on the previous year.
Mr Skidmore said: "We value the important contribution that international students, including those from the EU, make to our universities and it is a testament to our world-leading higher education system that so many students from abroad choose to come and study here.
"It is important we remember that while we have chosen to leave the EU, we are not leaving Europe, and our universities thrive on the diversity of being global institutions.
"We know that students will be considering their university options for next year already, which is why we are confirming now that eligible EU nationals will continue to benefit from home fee status and can access financial support for the 20/21 academic year, so they have the certainty they need to make their choice."