Why Africa is now being seen as the new China
16 November 2015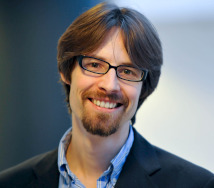 WBS academic Christian Stadler suggests Africa is the new China
Africa is home to an

unparalleled entrepreneurial

spirit he suggests
Continent has fastest growing urban population to aid its development
He uses Sudhir Ruparelia - Uganda's richest man - as an example of success
WBS academic Christian Stadler believes Africa is at the same stage China was 10 years ago but says its entrepreneurial activity is far beyond that of the world's second biggest economy.
The continent is often compared to China in terms of being the next big emerging market for companies and with the Chinese economy slowing down and the rest of the BRIC economies struggling; investors are looking for the next big thing.
The image of Africa often seen in the media of a part of the world ravaged by war and poverty is the not the whole story with 10 of the fastest growing economies now in the continent. It is also estimated that 10 years from now Africa will have 65 cities with more than one million inhabitants.
Professor Stadler believes this rapid urbanisation will be a strong driver of growth, but his research has also found a vast amount of entrepreuners, thriving with very little government support.
"In Europe and the UK for example, the government is often encouraging more entrepreneurs," Professor Stadler. "Yet in Africa it is mind-blowing - in places like Nigeria and Zambia they have the highest rate of entrepreneurship across the world.
"In these two countries, 39 per cent of people of working age are running a business less than three-and-a-half years old. This creates opportunities for them and for others to work."
"People are moving in to cities, which then creates a market for dividing task and the division of labour. Africa has the fastest growing urban populations in the world with 50 cities with more than a million inhabitants – equivalent to what we see Europe.
"This combines well with this entrepreneurial spirit, the enthusiasm, and drive of many people in Africa."
Professor Stadler cites the example of Sudhir Ruparelia. He tells how Mr Ruparelia began his life in Uganda before moving to the UK with his family and doing a list of run of the mill jobs before returning to the his homeland with the money he had saved in order to set up his own business.
Starting in beer exports, Mr Ruparelia soon moved into currency exchange and eventually properties. Now he is the richest man in Uganda and one of the richest men in Africa as chairman of the Ruparelia Group.
"There are opportunities in Africa," said Professor Stadler. "Africa is not a nation in economic difficulty deemed unable to pay its debts – it is not just a place of war and terror, abductions of people and poverty, far from it.
"It is a place of opportunity. Just look at the statistics: between 2000 and 2010 of the 10 fastest growing economies six of them were in Sub-Saharan Africa.
"There are opportunities happening right now in Africa. People should see it more like how China and South East Asia was viewed 10 years ago.
"After university it would be a great place to go to start your career or, rather than give money to charity, why not look invest in a company or start-up down there – entrepreneurs need money and that is often the hardest part of starting a new business. These days there are lots of platforms to help with funding though."
Christian Stadler teaches Strategic Advantage and Strategy and Practice on the Excutive MBA, Strategic Advantage on the Executive MBA (London) as well as Strategy Analysis and Practice on the MSc Management.