Why do entrepreneurs need a mentor? Sophia Nadur explains
02 November 2016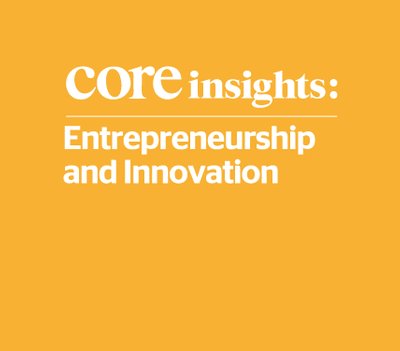 MBA alumna Sophia Nadur has launched a range of Green tea drinks
Called TG Green Tea, Sophia believes the drink appeals to a healthy lifestyle
The slow pace of change in corporate world motivated Sophia
For budding entrepreneurs in the sector she advises 'find a good mentor'
A desire to add something different to the crowded shop refrigerators full of fizzy cans and expensive "new age" drinks played a significant part in one MBA's journey to becoming an entrepreneur.
With a sugar tax on the soft drink industry on the horizon in the UK, the health benefits and low sugar content of a green tea infused drink presented Sophia Nadur with a business opportunity too good to miss.
"We designed the drink to be low sugar, not because of the sugar tax, but because we wanted to make something we could drink and enjoy every day, for people bored of just picking up water," says Sophia, who was born in Trinidad and worked in Latin America and the US before moving to London in 2001.
"On one particular tasting session at Tesco HQ recently, I met someone with type 1 diabetes who initially thought he wouldn't be able to have the drink, but as we knew it was low in sugar I said 'take a bottle and let us know what you think'. The guy really enjoyed it and wrote a glowing message on Facebook the same night.
"The trouble is there is a lot of deception in the market with labels like 'low in sugar' thrown around quite frivolously. There is a lot of misinformation in the market, but the sugar tax will of course help with our drink."
By launching Tg Green Tea in 2015 Sophia has been able to utilise her experience in a number of marketing and innovation roles for global food and drinks companies, including Coca-Cola, Mars, and Unilever.
Leaving the corporate world to build a start-up
Sophia says: "I decided to leave the corporate world as I became more and more frustrated with the slow pace of change for the better.
"Around 2005-2006 I could just see something major looming, a tsunami. There were two main things: consumers looked ready to turn their back on high processed, unhealthy foods and also consumers started to think about being connected with products.
"Brands would talk to you, but now with social media people want conversations. Big brands, thought, just didn't know how to do it, they only knew mass marketing.
"My business partner Hua and I both saw the trend starting for folks craving healthier drinks and wanting to cut down on sugar consumption. But there were not many drinks on the shelf that were naturally healthier, made with familiar ingredients and also reasonably priced."
Retail giant Tesco chose Tg as part of its food and drink start-up crowdfunding campaign called BackIt, with Tg smashing its target of £10,000 with the support of more than 100 backers.
All three of the iced Tg green tea flavours have been shortlisted for 2016 UK Quality Food Awards. Tg green tea also picked up the Global Packaging Design award as well being a finalist in the Best Tea category of the World Beverage Innovation Awards.
For anyone wishing to be an entrepreneur, Sophia has some simple advice.
"For innovation there is no point keeping your eyes on the rear view mirror, look ahead," she says.
For those looking to get into the food and drink sector, though, Sophia believes finding the right support is crucial.
"There is no point just thinking you have a great idea," says Sophia. "Good ideas are a dime-a-dozen, so you need to have something more than that.
"Find a mentor, find someone who has been in the business. I was lucky in the sense I had a food and drink background, but my advice is you really do need to find a mentor, it is so, so difficult to make it without help.
"It's a long slog and there will be sharks happy to make a quick buck without really investing in the product development, so be savvy. Start small, maybe with a little kitchen to start a small batch – there's no point having 12 pallets from the get-go.
"Go to farmers markets, small shows and the like and build up your community."
Although Sophia joked about not mentioning when she took her MBA, the experience has still been crucial to her growth as an entrepreneur and getting Tg off the ground. However, she is quick to warn people against doing the MBA for the wrong reason.
"The MBA shouldn't just be seen as a badge," she says. "I picked up a lot of the technical skills and ideas that really helped me grow as an individual.
"The MBA does open doors, though, and has helped me develop as a mentor helping on things such as the WBS mentorship programme."
Sophia is one of a number of experienced business men and women offering advice through the Warwick Mentorship Programme, which gives students and alumni a mentor for two years to help with their career or business.
What next for Sophia and Tg?
"Well it didn't take long for a global company to come in with an offer, but we're not interested in going that way just yet," says Sophia.
"After the BackIt campaign we are hoping to break through to get ourselves in more shops. We have the supplier ready to expand things to the US market and we are also thinking of a European expansion.
"Who knows, there could be a Tg tea salon one day. Tea is a social glue and I'm sure lots of amazing people will join us on this journey."
For more articles like this download Core magazine here.