Year of the goat to be a year of slowdown in China's growth
19 February 2015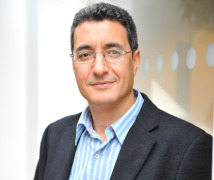 As well as being the year of the goat, 2015 is the year the rest of the world has to get used to China's growth slowing down, says Kamel Mellahi, Professor of Strategic Management.
China's economy grew by 7.4 per cent in 2014, its slowest pace in 24 years, and it seems the days of double-digit growth are over with reports now suggesting the President Xi Jinping and his Government are planning for a bottom line of 6.5 per cent for its 13th five-year plan, with seven per cent in 2014.
Companies across the globe have been riding on the back of China's phenomenal growth over the last 20 years, but Professor Mellahi says they will have to re-adjust.
"I think the world, or a big part of it, has not come to terms with the fact that China's economy is unlikely to grow as fast as it used to," said Professor Mellahi. "The recalibration process of the Chinese economy will take time. It's a balancing act that needs very careful manoeuvring.
"Slower economic growth is the 'new normal' in China. The aim of China is to achieve a balanced, responsible and sustainable growth. It is not in China's or the rest of the world's benefit to chase unsustainable high growth."
As China celebrates its new year, Professor Mellahi believes its Government is taking the right actions to make sure the slowdown in growth doesn't come as a shock.
"Nearly all the indicators are pointing towards a tamed economic growth in 2015," said Professor Mellahi. "There is a near consensus that the key drivers for economic growth are going to remain frail. Export growth in key markets is expected to remain tepid, and weak consumer demand is expected to last well into 2015.
"There are no strong indications to make one think otherwise. Therefore, something major has to happen to lift economic growth above seven per cent in 2015. That said, what is really interesting and refreshing is the level of tolerance for slower growth in recent official discourse.
"Despite the gloomy predictions, the Chinese Government hasn't come out with all guns blazing promising to reverse the decline in growth. Far from being bullish, the Government appears to appreciate the challenge and is taking careful and measured steps to recalibrate the economy and avert a sharper slowdown in growth. Partly because of this, I do not think China is going to experience an economic hard landing.
"The thing to watch out for in 2015 is the extent to which the bunch of measures being taken to stimulate export and consumer demand bring, or otherwise, the desired effects. If the expected cuts in interest rates and the probable lowering of Requirement Ratios Reserve (RRR), among a host of other measures, do not bring the desired results, then unpopular and risky measures may have to be considered to stop growth from sliding further."
Professor Mellahi hopes the slowdown does not tempt the Chinese Government to abandon measures to improve its poor environmental record.
"The environmental challenge is an urgent problem, but unfortunately there are no short term solutions that are both desirable and feasible," said Professor Mellahi. "The current level of pollution is intolerable but at least in the short term I just cannot see the current anaemic growth level deliberately pushed to slide further to meet environmental challenges. The challenge needs a careful long term strategy. A deliberate strategy of divesting away from highly polluting industries, coupled with heavy investment in new and cleaner sources of energy."
Chinese companies have already invested heavily abroad and Professor Mellahi expects this to continue as they look to exports to boost growth.
"I believe we are going to see more and more emphasis on emerging economies particularly Asian and African economies from China," said Professor Mellahi. "There is no doubt that China is going to play an even a greater role in Asian and African regions in the future.
"Also, China's exports grew the fastest in Europe last year - higher than Japan, US and emerging economies. This must be sustained. I think China may need to counteract the expected weakening of consumer demand by boosting exports to European markets."