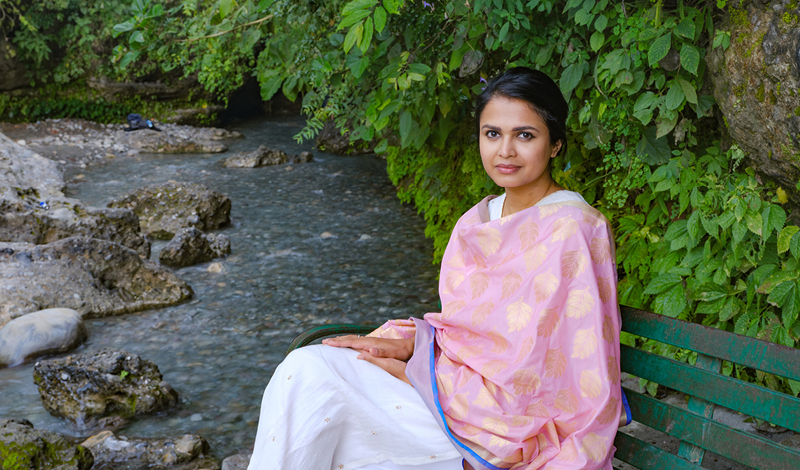 Gauri's journey of change
Gauri always knew she wanted to drive change in the world. Fiercely independent and focused from a young age she believed in pushing against conservative boundaries and expectations of what Indian women should do with their lives.
And, as the proud founder of Sirohi, a luxury Indian lifestyle brand, the investment banker turned social entrepreneur is doing just that. Bringing together her passion for women's equality with her business acumen and entrepreneurial flair, she's created sustainable enterprise that brings Indian heritage craft to the world while empowering its female artisans through fair incomes and life-changing opportunities.
It was Gauri's time at Warwick Business School, while studying MSc in Finance & Economics, that her eyes were opened to how her dreams could in fact become reality.
As a Postgraduate, Gauri spent three months in Peru volunteering at a not-for-profit microfinance organisation supporting single mothers to start their own businesses. This powerful experience, meeting people from different cultures and backgrounds, really opened her horizons and enabled her to see new possibilities beyond a traditional career in finance and banking
You have the ability to be anything, do everything
Instead of feeling that there was only one path to success, she was inspired to think differently about her future and to follow her heart, not just convention.
Even though Gauri still initially embarked on a career in banking, working as an analyst at Deutsche Bank in Mumbai, her desire to use her skills for good and help change people's lives in her local community was simply too strong. "I always assumed the natural path for me would be to have a long career in banking, but I realised that actually I didn't want to just do what was expected."
Bold
Gauri's time at WBS, coupled with her international experience, had not only helped her standout from hundreds of applicants in securing a job, but it had also given her the confidence to be brave and adventurous when she needed to be, and to be prepared to step outside her comfort zone to be happy.
If you don't experiment, you'll never discover what you love or what you're great at
She decided to make the bold step of leaving her job and use her financial and commercial expertise to help others, setting up her own charitable foundation and embarking on the first of many development projects close to home. "It was difficult to leave - it came with a salary and some of the smartest, fun people I've worked with. But I've never wanted to go with the flow. My heart was in development, so I left to set up a foundation that supported local community projects."
Not being afraid to experiment and pursue her passions was very freeing. Having an entrepreneurial mindset came very naturally to Gauri. She firmly believed whatever the outcome, success or failure, that she would learn something from the experience that would help her to improve and be able to do more good next time. She reflected: "I'm naturally resilient, with the spirit to fail and get up again, that's why I am a good entrepreneur".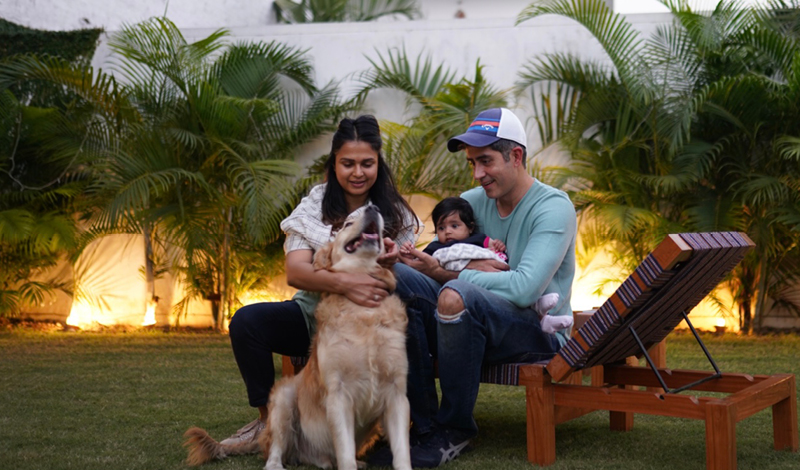 Relentless
Gauri set up her foundation Skilled Samaritans aged 23 and embarked on her first project close to home in New Delhi. Very few people were used to seeing a young woman working in development, especially one who had left a secure career in banking.
Collaborating with other volunteers and not-for-profits, the project helped install solar power to rural villages who were paying unsustainable amounts for electricity and had acute power issues. The project provided electricity to three villages for the first time, as well as 10 schools and impacted over 25,000 lives. One villager described the impact, "Our village is now a shining light in a dark sky".
However, despite having a strong model it wasn't scalable, so Gauri had to go back to the drawing board. "It wasn't easy, but I learned to fail, get up, and try again. I realised I needed to work with larger corporates to have greater impact" she reflected.
It was working in these rural communities that she spent time with women, many who were married young and had no prospect of an independent future."We'd talk about their dreams, aspirations, and fears. Being young and marginalised, they seemingly had no options in life - but they were creative."
Unstoppable
Gauri felt compelled to do something to help these women realise better, more independent lives while creating a successful business at the same time. "So many people talk about issues but don't do anything about them. I believe in standing up and taking action if you want to make a change."
If you want to do something, just do it. What are you waiting for?
In 2019, Gauri revived her foundation with a focus on empowering Indian women to be more financially independent. Sirohi was born - an artisan backed craft brand with ambitions to be as punchy and powerful as IKEA.
Today, hundreds of women from the region are involved making artisanal goods from sustainable materials - including plastic ropes wound from discarded packaging, jute and textile offcuts. Her inventive business model is decentralised and simple - it builds communities, and it's responsible. "Women are my focus, but our secondary ideology is that we don't need to use virgin materials - we can be sustainable."
While the women she works with have no formal education, they are skilled craftswomen. Gauri helps them work with contemporary designers around the world and leverage their traditional weaving skills. "It gives them opportunities where before, there were none," she says. "They become their own bosses."
Adapting to a changing world post-pandemic, the brand is now growing a market online and being sold via brand partnerships in city shops.
Gauri is ever more focused on driving change and creating a global market that celebrates Indian artistry and artisans. "I want the craft of India to be on the global map," she says. "I always knew I'd be an entrepreneur. My dream has been to build a women-led organisation close to me, and my country.
I'm more driven, determined and ambitious than ever to make an impact
Inspired by Gauri's story? Start your journey of change with a course at Warwick Business School.
Justin Farrance
Warwick Business School Alum, Corporate Lawyer and Founder of the charity GROW Mentoring.
Fiza Farhan
Warwick Business School Alum, Global Development Expert & Member UN Secretary General's High Level Panel on Women's Economic Empowerment.