Experiences from the Warwick Executive Diplomas
08 October 2019
Three of our Executive Diploma students share their experience of the programmes, and why they chose to study at Warwick Business School.
Paula Dragomir: Executive Diploma in Organisational Change
What first attracted you to Warwick Business School, and why did you ultimately choose to enrol on an Executive Diploma?
The main thing that attracted me to WBS was the ranking of number one Distance Learning MBA for two years in a row. I ultimately chose the Warwick Executive Diploma due to the programme layout, which comprises of face to face interaction, as well as the length of the programme only being one year.
What are your experiences of the learning environment at The Shard?
The Shard is the place to be! The premises are stunning, classes are state of the art, like small board rooms with a high attention to detail, creating a realistic business environment.
What elements of the programme do you value most and why?
The guest speakers are a fantastic addition to the programme, expanding through their experience on the knowledge needed to succeed in the future. The academics are the pinnacle of the diploma series, as they concentrate executive level learning in just a few days.
What impact do you expect the Diploma to have on your future career?
There is a high need of expertise in the field of organisational change / transformation management. Too many companies are failing in this area, initiating change without proper knowledge, damaging their businesses as well having a negative effect on employees. This programme has all the means to enhance these skills, providing the right tools to help such organisations.
Oli Jackson: Executive Diploma in Strategy & Innovation
Why did you choose to study an Executive Diploma at WBS?
With 17 years in the financial industry, predominantly in the managerial roles, I felt that I needed to open my eyes, see the wider world of industry, and bring back those tried and tested experiences into my area of expertise with the tools to challenge and reshape the status quo.
I choose WBS as I felt as a business school they have a track record for fresh and innovative approaches to both learning and business, and in particular the executive diploma series for it's "bite size" nature and promise to attract a wider industry base of decision makers into the classroom.
What are your overall thoughts on the programme so far?
The course has excelled my expectations. Specifically the constant interaction and healthy debate in the classroom and the diverse backgrounds of those in my cohort, along with the quality and breadth of knowledge of the course leaders and professors, most with revered backgrounds in industry, and visiting speakers from industry. The "bite size" nature, was slightly less bite sized than expected, but it has been an enjoyable challenge to fit alongside bringing up a young family!
What advice would you give to someone who is thinking about studying a Warwick Executive Diploma?
Getting the balance right and clearing your diary is never easy, but not unachievable. I prepared for each of my modules with an hour or so reading on the train to work each day for the weeks running up to each of the four classroom based modules, which allowed me to maximise on the discussions and learnings. You have plenty of time (usually six weeks) to complete the assessments, and you are able to base them on your existing business or business area, or you can take the plunge and focus on a different / new area. Make sure you dedicate time to really read up and formulate your ideas before writing each assessment. It is challenging, but you really do get out what you put into it. So my advice is to have an open mind, really commit to each day, and be part of the full learning experience.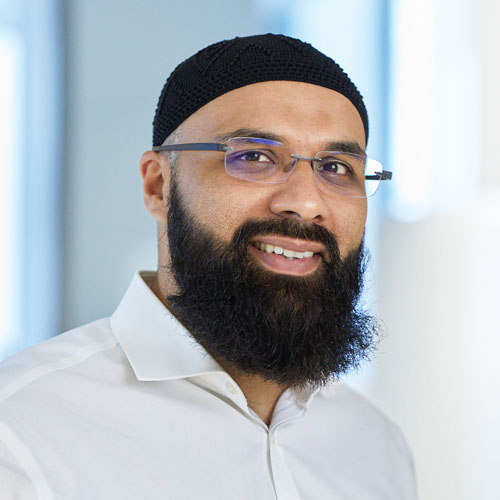 Mushhood Haider: Executive Diploma in Strategic Leadership
What first attracted you to Warwick Business School?
I was aware that WBS consistently ranked amongst the top business schools in the country. I possessed an MBA, and I was researching the best course to enhance my leadership abilities. The Warwick Executive Diploma matched all of my requirements (structure, timing, location and content), where my working life would not be impacted too much.
Tell us about the cohort of participants on the programme. How have they contributed to your learning experience?
It's a very diverse group of professionals, with an ethos of collaboration rather than competition amongst the cohort. It creates an atmosphere to harbour collective participation, resonating in a positive cycle of energy and enlightenment.
How does the content of the Diploma relate to your current organisation?
It is highly relevant, and hones an ambidextrous mindset, to impress both clients and investors in a VUCA (Volatility, uncertainty, complexity and ambiguity) environment. It also encourages you to consider new ways in developing a healthier business ecosystem in which the needs and wellbeing of stakeholders are considered and respected. Specifically, returning superior returns to our shareholders, benefiting society with innovative green energy solutions, while maintaining the operational excellence and discipline that we have institutionalised to build a more robust and resilient organisation.
What impact do you expect the Diploma to have on your future career?
I believe the Diploma will help equip and boost my transition from manager to leader, connect my leadership imperative with the wider environment, sustain my leadership authenticity and create long lasting professional relationships with like-minded, yet diverse students, teaching staff and the alumni network.
Find out more about the Warwick Executive Diplomas.