Andrew Oswald to star at Behavioural Science Summit
18 June 2019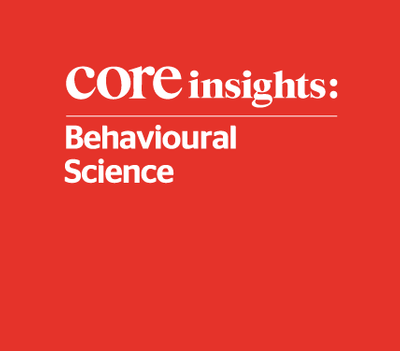 Pioneer of the economics of happiness Andrew Oswald stars at Summit
Up to a dozen speakers will reveal the latest Behavioural Science research
Industry speakers from Bupa, Public Health England and the NHS
Follow it all live on the Warwick Business School website
Why so many people suffer midlife crises in rich nations will be one of the topics debated at the second Warwick Behavioural Science Summit.
Organised by the Warwick Behavioural Insights Team (WBIT), the Summit will see a host of speakers from top UK universities, The Alan Turing Institute, healthcare multinational Bupa, the UK's National Health Service, Public Health England and many more organisations.
Last year's inaugural Summit saw more than 200 delegates attend from the academic community, civil service and industry with World Bank Behavioural Scientist Nina Mazar the keynote speaker.
This year on June 20 Andrew Oswald, Professor of Economics and Behavioural Science at the University of Warwick and one of the pioneers of the economics of happiness, will provide evidence of the high levels of stress in midlife despite people earning high salaries and living in the healthiest and wealthiest nations.
He will document patterns of midlife suicide, sleeping problems, alcohol dependence, job strain and severe headaches that afflict these people and will call on scientists to tackle what appears to be a fundamental problem in modern society.
The Behavioural Science group at Warwick Business School is the leading centre of its kind in Europe, at the forefront of research in psychology, economics and neuroscience, while heavily involved in real world applications. Supported by the Behavioural Science group, the Warwick Behavioural Insights Team is a student group which aims to apply Behavioural Science to solve university level problems and to engage the wider audience in the work done in Behavioural Science.
WBIT manager Merle van den Akker, a PhD student in Behavioural Science at Warwick Business School, said: "At the Summit we are aiming to promote the use of behavioural science, both within academia and business.
"Within WBIT we teach students and help them become acquainted with behavioural science theory and its practice through behavioural change interventions. Moreover, we look to promote behavioural science and its potential influences in other fields of study and business.
"With this Summit we have gathered a fantastic set of speakers doing exactly this. We are very excited to hear their perspectives on what behavioural science can do for health and wellbeing.
Main Summit organiser Lana Tymchyk, a MSc Behavioural and Economic student, said: "The Warwick Behavioural Science Summit provides a unique opportunity to go beyond theory and discover the impact behavioural science can have.
"This event would not have been possible without the hard work of the students organising it. They are dedicated to making sure the Summit does justice to all the behavioural science research and its applications not only in academia, but in business, healthcare and policy.
"This is a chance to find out about the latest research and thinking from some of the top academics in the field and its real-life applications. We are incredibly proud of this year's Summit."
The Summit was created and organised with academic support from Daniel Read, Professor of Behavioural Science, and funding from the University of Warwick's Behavioural Science Global Research Priority.
Professor Read said: "The Summit aims to bridge the gap between academics and professionals, public and private sectors.
"The Warwick Behavioural Science Summit provides an opportunity for everyone to hear inspiring ideas, form potential partnerships, find prospective employees, and discover new trends in Behavioural Science.
"This is a chance to not only find out the latest research and thinking from some of the top academics in the field, but also hear how insights from Behavioural Science are being applied in business, healthcare and in the use of technologies like AI."
Among the dozen speakers will be Dr Sarah Deedat, Senior Public Health Adviser at Bupa, who will be delivering a talk on how the private healthcare group applies behavioural insights to improving people's health.
Kristina Kurtis, Assistant Professor at the Centre for Adcnaces in Behavioural Science at Coventry University, will lecture on how an app she has co-designed is helping anaemic children to improve their diet, while Magda Osman, Reader in Experimental Psychology at Queen Mary University of London and author of Controlling Uncertainty, is set to explain how to improve decision-making in medicine.
There will also be a panel from The Alan Turing Institute on how to measure and improve wellbeing at the population level that will include Nick Powdthavee, Professor of Behavioural Science and author of The Happiness Equation, Redzo Mujcic, Assistant Professor of Behavioural Science, who has researched the effects of fruit and vegetables on clinical depression, and Ganna Pogrebna, Professor of Behavioural Economics and Data Science at the University of Birmingham.
Ivo Vlaev, Professor of Behavioural Science, will also speak about changing behaviours in health having researched reducing alcohol consumption and how to help teenagers tackle obesity.
For the full line up of the Warwick Behavioural Science Summit and to register to attend click here.
You can follow our live blog of the Warwick Behavioural Science Summit on our website on Thursday.