Nine teams set for WBS Healthcare Case Challenge
03 June 2019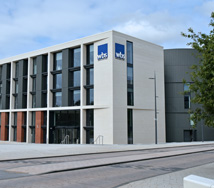 WBS Healthcare Case Challenge will see the winners take home £4,500
Challenge centres on increasing adoption of new digital technologies
UK's NHS looking to boost adoption to improve services and care
Competition is supported by GE Healthcare and Pfizer
Nine teams will be battling to win £4,500 in the annual WBS Healthcare Case Challenge which centres on digital engagement.
Last year's WBS Healthcare Case Challenge was won by a team from Canada's University of Alberta Business School thanks to their innovative design to tackle atrial fibrillation – a heart problem.
This year's competition, hosted at Warwick Business School supported by GE Healthcare and Pfizer on June 21-22, has given teams the task of designing an innovative approach that enables digital adoption and increases digital engagement in healthcare, either from a patient or staff perspective.
Teams from Said, Judge, Edinburgh, Manchester, Aston and Warwick Business Schools have been given seven weeks to tackle the problem prior to the two-day event with the the help of in-depth case materials and online lectures from Pietro Micheli, Professor of Business Performance and Innovation, Marie Bachoc, Design Thinking Program Manager at GE Healthcare, Panos Constantinides, Associate Professor of Information Systems & Management, Marc Barlow, Head of Care Area Marketing, Global Marketing Organisation at GE Healthcare, and Mark Ebbens, Senior Partner at GE Healthcare.
Full-time MBA student Andrew Green, who is part of the organising team, said: "The challenge this year is about bringing healthcare into the digital age by using insights from healthcare itself and other industries.
"Students will gain valuable experience from working on real world applications and solving leading edge problems. The event also provides a fantastic opportunity for participants to network with MBA students from other schools as well as senior members of the healthcare industry. Not to mention one lucky team will walk away with £4,500."
England's National Health Service (NHS) published its Long Term Plan in January 2019 setting out a wide-ranging programme to upgrade technology and digitally-enabled care over the next decade.
With wearable technology alongside AI and the Internet of Things increasingly being used the NHS wants to see people managing their own health and recognising important symptoms early by using digital tools.
Clinicians will be able to interact with patient records and care plans wherever they are, with ready access to decision support and AI, while care will be optimised for local populations with data being used to support consistent quality of care and better co-ordination.
Mr Barlow, of GE Healthcare, said: "We've looked at the winners from past Case Challenges and the people who have got through to the final stages really understand the customer problem.
"They've taken the time and trouble to talk to customers to get a real feel for what the challenges are, so they've really got a sense of that area for themselves. And the solution, in an innovative way, addresses that problem.
"So if you really understand what the customer is looking to deliver, if you understand the problems that the customer has in that particular setting and you robustly know that's the problem, that's an issue, that's the outcome that they're looking to deliver, and you can come up with a solution that will help them deliver that outcome or solve that problem, then you're going to have something that resonates."
For more details on the WBS Healthcare Case Challenge click here.