Online learning sees more global industry speakers
30 June 2020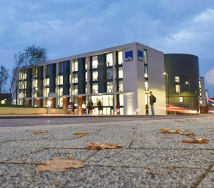 Lockdown has offered more opportinities for global industry speakers
Students have heard online talks from executives at IBM, US Bank and more
Industry experts from around the world including Japan and Germany
Online delivery allows more time for experts to answer questions as well
Lecturers have taken advantage of the move to online learning by inviting a host of industry experts from around the world to supplement students' education.
Like all business schools in the UK, the COVD-19 pandemic has forced the shutdown of Warwick Business School's campus and WBS London at The Shard with all teaching moving online.
Thanks to the platform that powers the school's world leading Distance Learning MBA, according to the Financial Times, students are still able to enjoy a rich and highly interactive learning experience.
It has also given students the chance to quiz industry leaders from the likes of IBM and German chemical and consumer goods giant Henkel in the online classroom, which they may not have had the chance to in normal times.
Isabel Fischer, Associate Professor of Information Systems, said: "While students miss out on some of the informal networking, hearing guest speakers live and with the recording available later, was appreciated by students.
"Many of my guest speakers were able to spend an hour in an online classroom answering all the questions, whereas in normal times they would have been reluctant to come in person, especially those from abroad. Having guest speakers online has enabled us to bring in industry experts from other countries and cultures, not just from the UK."
On Dr Fischer's Digital Marketing Technology and Management module, which is taught on the suite of MSc Business courses and MSc Management of Information Systems & Digital Innovation, there have been talks from the likes of Nathalie Guillaume, Marketing and Communications Director at Japanese firm Sunstar's oral hygiene brand GUM on social media marketing and Doug Nielson, Senior Vice President for Innovation Research and Development at US Bank.
Kassy Digham, Head of Digital B-R UK & Ireland at Henkel, gave a talk on digital marketing during COVID-19, and said: "I have thoroughly enjoyed being involved with WBS and the students studying digital marketing. For the business it's great to have ties with such a world-class institution and we look forward to strengthening our association post-lockdown."
There have also been talks from Jonathan Cayton, Business Development Director at US marketing agency Aberdeen Group, and Phill Agnew, Director of Product Marketing at consumer intelligence firm Brandwatch on consumer psychology in advertising.
"It is important that we bring in speakers from industry to make sure that the content covered in our teaching is cutting-edge in a fast moving digital environment," said Dr Fischer. "Also, it provides confirmation of key learnings if students hear it both from an academic and an industry expert.
"When engaging a different expert for a live lecture every single day of a week-long module, briefing guest lecturers in advance is important to be able to provide students with a holistic learning experience, with guest lecturers' content building onto each other.
"The feedback we get from the students shows it is worthwhile. They really appreciate seeing what they have learned being put into practice by industry experts, who are then able to go into detail and answer questions on the nuances of the theory."
The lectures are hosted on the school's bespoke platform my.wbs, which allows students to text questions or voice them. They can also review the recording later.
On Dr Fischer's Digital Leadership module that is part of the Executive MBA, Executive MBA (London) and Distance Learning MBA, Matt Lucas, Global Lead for IBM's Blockchain Enablement project gave a talk alongside academics from Sweden and Spain.
"These have been very valuable for the students," said Dr Fischer. "We also used one of the speakers to set an industry-specific task. Doug Nielson from US Bank set MBA students the task to think about how to convince customers that regularly visit branches to switch to the company's banking app.
"Sometimes we pre-record the speakers, where I have a discussion with them and students are able to watch it later on our bespoke virtual learning platform."