£250,000 donation to help disadvantaged students
30 April 2020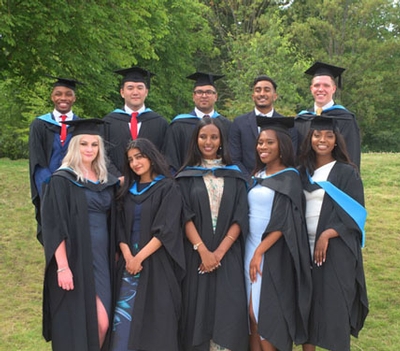 Generous alumni donation will help more than 100 disadvantaged students
Money will fund Young Entrepreneur Scholarships and Foundation Year
Scholars will have tuition fee paid and a bursary towards living expenses
COVID-19 means disadvantaged youngsters need more help than ever
More than 100 students from low income families will have the chance to study at Warwick Business School thanks to a £250,000 donation to support scholarships for young entrepreneurs and bursaries for foundation year courses.
The donors are a married couple who met at Warwick as students. Their motivation is to ensure talented young people are not held back by their circumstances, and as such, they have not requested any recognition for their gift.
Their generous donation will fund four Young Entrepreneur Scholarships (YES) and up to 100 bursaries for students on the WBS Foundation Year course, which saw its first cohort graduate last year (pictured).
YES programme leader Simon Barnes, Professor of Practice at WBS, said: "I'm delighted that this donation will help enhance fair access to higher education for students from widening participation backgrounds and will contribute to the growing culture of innovation, entrepreneurial thinking and leadership in the West Midlands by investing in young entrepreneurs.
"During the COVID-19 pandemic, young people in challenging circumstances need support to access higher education more than ever, so this gift is incredibly good news."
The YES programme was launched in 2019 to help ensure promising young entrepreneurs from low income families in the West Midlands achieve their potential. Successful scholars will undertake study at WBS to obtain an Undergraduate degree, while working on their plans to build a business or social enterprise start-up.
Each scholar will receive a full tuition fee scholarship, a yearly bursary to contribute towards living expenses and one-to-one guidance and mentoring from senior WBS academics.
Professor Barnes said: "YES is the first WBS scholarship programme of its kind and is sector-leading in enabling young entrepreneurs to benefit from everything a business degree can bring. I'm enormously grateful to the donors for their support."
The Foundation Year programme was designed to give students who do not possess the traditional entry requirements the opportunity to build their knowledge about business. Students improve the key skills that are central to success during an Undergraduate degree, and spend a year acclimatising to the University environment. The course includes a diverse programme of events and activities, such as visits to businesses, guest lectures and careers workshops.
Foundation Year programme leader Tina Kiefer, Professor of Organisational Behaviour, said: "We're very grateful to the donors for their support and commitment to the university and our students.
"Their gift will go a long way in supporting talented students from less-advantaged backgrounds to succeed at Warwick and beyond university, who might otherwise not consider going to university at all."