Virtual celebration to be held for the Class of 2020
17 July 2020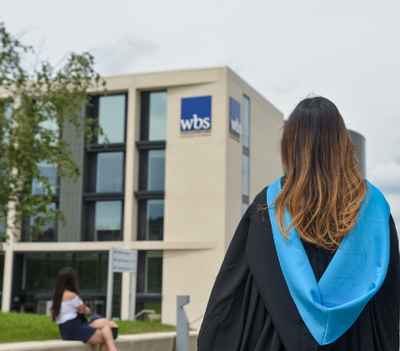 Pandemic has seen summer graduation ceremonies postponed
WBS will be holding an online celebration for final year students
School still hoping to hold traditional graduation when normality returns
Celebration is reward for students studying in such difficult circumstances
With all graduation ceremonies postponed because of the COVID-19 pandemic Warwick Business School is organising an online celebration of its students' success.
The virtual WBS Class of 2020 celebration will take place on July 23 and 24 with all those graduating being sent a link to join the event after exam results have been released.
Graduands will be able to upload pictures of their time at WBS and of their own celebrations with family and friends on finishing their degree, while they are being encouraged to post pictures on social media using the hashtag #wbsClassof2020.
It might not have the pomp and ceremony of the traditional graduation, but Associate Dean for the Undergraduate Programme Sue Newell, Professor of Information Systems and Management, believes it is important to mark the occasion.
"We are immensely proud of our students and how they have conducted themselves during this difficult time," said Professor Newell. "They have continued to work hard and shown resilience, perseverance and a real sense of community during the pandemic.
"All degree ceremonies for this summer are postponed, but we don't want to let such a momentous event in our students' lives go unmarked.
"We hope to hold graduation for the class of 2020 as normal one day, but this online event will help us all come together to celebrate our students' achievements after all of their hard work."
The Undergraduate celebrations will begin at 11.30am on July 23 with Professor Newell and WBS Dean Andy Lockett, Professor of Strategy and Entrepreneurship, hosting the online event.
Postgraduates and PhD students will have their celebration on July 24, beginning at 12.30pm, and it will be hosted by Professor Lockett, Ross Ritchie, Associate Dean of Postgraduate Business and Management Programmes and Associate Professor of Operations Management, and Eivor Oborn, Director of the PhD Programme and Professor of Healthcare Management.
Dr Ritchie said: "This celebration might be online but it will be wonderful to see our graduands joining us from all over the world. The pandemic has been hugely disruptive but our students have shown huge adaptability and commitment to continue their studies online.
"It has been a huge undertaking for the school and staff moving everything online, so holding an online celebration is wholly appropriate."
Professor Lockett added: "For the class of 2020 this has been a year like no other, one where they have had to show great flexibility and indefatigable spirit to achieve their goals.
"It's a testament to our students' determination that they have finished their studies in such circumstances and they deserve their graduation to be marked and celebrated.
"We hope that society will return to some sort of normality soon, but the class of 2020 will always be able to say they graduated during one of the toughest times in our school's history."