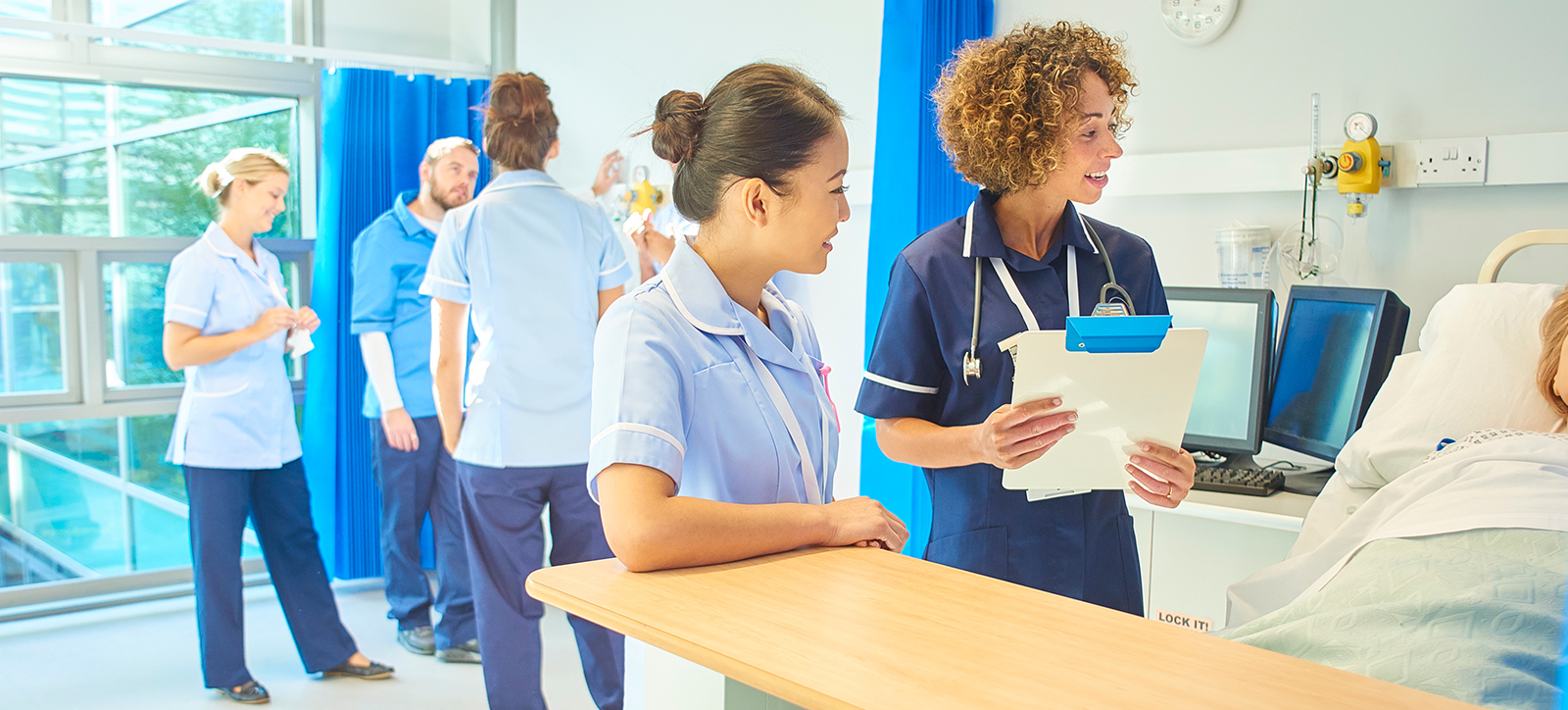 Continuous improvement is 'bottom up' and involves all staff
In the second lesson of a six-part series, I describe the important role of a continuous improvement infrastructure, connecting and co-ordinating all parts of the organisation to create a sustainable culture of improvement. It draws on my evaluation of the five-year long NHS partnership with the US Virginia Mason Institute to illustrate in a practical way, the components of an improvement infrastructure relevant to every organisation in healthcare.
Each lesson will be followed by a 'tweetchat' on Twitter hosted by WBS in partnership with the #QIhour network. The lessons are summarised in Six key lessons from the NHS and Virginia Mason Institute partnership.
The word infrastructure is derived from French, where 'infra' means below the surface (like the foundations of a building), and 'structure' represents the bit you can see (the building itself).
This very literal translation reminds me of the Lean Iceberg Model created by Peter Hines and his team at Cardiff University. In this model, infrastructural elements of strategic alignment, leadership, and behaviour and engagement sit below the surface of the water. These elements are seen to have an important 'enabling role' in the implementation of lean. The visible part of the iceberg above the surface is represented by improvement technology, tools, and techniques.
I like a good metaphor. It succinctly conveys lessons and principles that can be interpreted in a meaningful way and across a variety of contexts. But the iceberg doesn't work for me. Submerging the 'enabling' elements of an improvement culture under the water suggests they are invisible and therefore mysterious (or even absent) in the minds of others.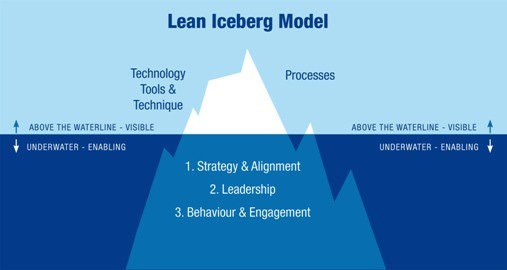 Problematic: The underwater elements in the Lean Iceberg Model should be visible
Perhaps I am being too literal in my interpretation of the iceberg. Without those 'under the water' elements, lean implementation would quickly drift. From that perspective the iceberg has merit. Nevertheless, my key message remains: strategic alignment, leadership, and behaviour and engagement should be visible to everyone at all times.
An improvement infrastructure is comprised of routines and practices that enable a continuous improvement (CI) culture to embed across the whole organisation. Below I highlight some of the core elements of an improvement infrastructure implemented by the five hospitals that took part in the NHS-Virginia Mason Institute (VMI) partnership.
1 Leadership routines
The popular mantra of continuous improvement is that it should be a 'bottom-up' endeavor, which involves everyone.
The guiding principle is that those who know the work, know best how to improve it. But leaders have a crucial enabling role beyond overseeing an improvement programme. Specifically, healthcare leaders (at all levels) can nurture a CI culture by adopting leadership routines that support a coaching style of leadership.
The ability to rapidly 'solve' problems (or demand that others do so) characterises the career of many successful healthcare leaders. But when a leader at any organisational level frames a problem, rather than solving it, they give permission to those who know the work to improve the work, thereby contributing to a sustainable CI culture.
All five chief executives admitted they had significantly changed their leadership style because of their involvement in the NHS-VMI partnership. One CEO described this change as "problem framing, rather than problem solving".
This coaching style of leadership has relevance for all healthcare leaders, from ward to board level. It could also have particular relevance and impact at a national leadership level (see Improving Together: Collaboration should start with regulators, an article I wrote with WBS colleagues in the British Medical Journal).
One example of a leadership routine that is conducive to an improvement culture is the 'gemba walk' (also known as 'genba'). This involves leaders going to see the work being done, showing respect to those doing the work, and asking why things are done in certain ways. The term gemba originates from a Japanese word that means 'the real place'.
Whether you love or hate these Japanese-derived concepts, we found formalised and regular visits to the 'gemba' greatly improved relationships and communication between frontline employees and senior leaders.
Leaders who take time to speak with and listen to staff at the gemba learn more about the challenges being faced and how they can help, than those who attempt to improve performance by setting targets and putting pressure on people.
2 A dedicated improvement team
One common element of an improvement infrastructure is a dedicated improvement team: a small group of highly skilled improvement specialists, often drawn from within the organisation.
The five hospitals we evaluated each created a small improvement team, drawn initially from within the organisation. This team was known as the Kaizen Promotion Office (another Japanese term that translates as 'good change') and each member completed a comprehensive training course delivered by the VMI.
Improvement specialists play a central role in developing improvement capability at every level of the organisation and co-ordinating improvement routines and practices to align with organisational priorities.
3 Capability-building routines
There are two ways an organisation can develop improvement capabilities. The first is by implementing a comprehensive training programme that blends theory with practice and the second is through facilitating improvement workshops (commonly known as Rapid Process Improvement Workshops) that bring people together to examine a process and improve it.
Training
The NHS-VMI partnership implemented a template training programme known as Lean for Leaders. This was a comprehensive programme incorporating improvement theory and practice, which took up to 12 months to complete. The role of the improvement team was to enable others by teaching them how to lead and spread an improvement culture.
Crucially, training enables the spread of daily management practices such as 'huddles', 'production boards' and 'standard work' across teams and departments at every level.
At University Hospitals Coventry and Warwickshire, for example, daily huddles incorporating 'safety conversations' spread rapidly across the organisation. In the words of one improvement specialist, this meant that "conversations about quality and improvement appeared everywhere every day".
Rapid Process Improvement Workshops
These workshops are a common vehicle for using quality improvement tools and techniques to improve a process. They typically last five days and participants typically talk of the 'rollercoaster of emotion' as they acknowledge a problem, apply improvement techniques, and reduce activity that adds no value in order to improve patient experience and outcomes.
Careful attention to team composition is paramount. There is a science to bringing teams of people together for these workshops and improvement teams spend many weeks preparing for them.
While that work is outside the scope of this article, it is important to note that the team should include someone who uses services as a partner, alongside members of staff chosen for their ability to influence and engage others to act as sponsors and owners of the recommended improvements that the team identify.
4 Routines for strategic alignment
Strategic alignment links to the co-ordination of improvement routines and activity with organisational priorities.
The mantra 'all improvement matters' is all well and good when you have an organisation that is performing well in terms of all national indicators. For everyone else, a more strategic and co-ordinated approach to improvement is recommended.
To this end, the five NHS-VMI hospitals each implemented a monthly meeting of senior leaders, middle level leaders, and the leader of the improvement team, to plan and monitor progress. This meeting was important for ensuring strategic alignment on an ongoing basis, and distributing leadership accountability across all levels of the organisation. I will return to the issue of 'strategic alignment' in Lesson 6: The Golden Thread.
An improvement infrastructure brings together the enabling elements of a continuous improvement culture (leadership, strategic alignment, and engagement and behaviours) and makes them visible across the whole organisation.
I have selected a few of the organisational routines and practices that made up the improvement infrastructure implemented via the NHS-VMI partnership. For further detail on the purpose, process and outcomes of each infrastructural element, refer to the full evaluation report.
The second tweetchat on building an improvement infrastructure will be held on Tuesday February 28, 7-9pm GMT. Follow the hashtags #LeadingQI and #QIhour to join and learn more from the NHS-VMI Partnership.
Nicola Burgess is Reader of Operations Management and teaches Operational Management on the Distance Learning MBA plus Digital Innovation in the Healthcare Industry on the Executive MBA.
Follow Nicola Burgess on Twitter @DrNicolaBurgess.
More lessons from the Virginia Mason Institute – NHS Partnership:
1 Build cultural readiness as the foundation for better QI outcomes
2 Embed QI routines and practices into everyday practice
3 Leaders show the way and light the path for others
4 Relationships aren't a priority, they're a prerequisite
5 Holding each other to account for behaviours, not just outcomes
6 The rule of the golden thread: not all improvement matters in the same way
For more articles on Healthcare and Wellbeing sign up to Core Insights here.