Accounting & Finance ranked third in UK by The Guardian
10 June 2019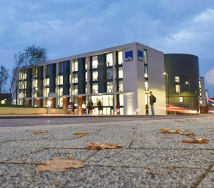 The Guardian ranks WBS third and fifth in latest subject rankings
WBS ranked fifth for Business, Management and Marketing
Annual ranking puts WBS third for Accounting & Finance
Graduates move into jobs with the likes of L'Oreal, Accenture and EY
The Guardian has ranked Warwick Business School's Accounting & Finance undergraduate course the third best in the UK in its latest annual ranking.
WBS climbed from ninth to third in The Guardian University Guide 2020's ranking, which follows the school being named third by The Times and Sunday Times Good University Guide 2019 and The Complete University Guide 2020 for the same BSc Accounting & Finance degree.
The school was also rated fifth in the country for Business, Management and Marketing with its BSc International Business, BSc International Management, BSc Management and various Joint Degrees being assessed by The Guardian University Guide 2020. The result follows WBS again being ranked third in the UK by the The Times and Sunday Times Good University Guide 2019 for the same degrees.
Andy Lockett, Dean of WBS and Professor of Strategy and Entrepreneurship, said: "These rankings are great news for the students and staff. Our world-class academics work tirelessly to give our students a first-class education and a transformational educational experience.
"To do so, we are continually reviewing our programmes, content and the student experience as our aim is to surpass the high standards we have set.
"We understand how hard our students work and the effort they have gone through to gain a place here, so it is imperative we provide them with a world-class education."
The Guardian University Guide, which ranked the University of Warwick in the country's top 10 overall, reveals that more than 90 per cent of students were satisfied with the quality of their business and management degree and 91 per cent were satisfied with their BSc Accounting & Finance degree. While WBS scored nine out of 10 for 'spend per student', which assesses the amount of money spent on students excluding academic staff costs.
Students studying BSc Accounting & Finance have the opportunity to do a year's work placement through the ICAEW Undergraduate Partnership Programme and can gain exemptions from a number of professional accountancy exams with certain modules.
The degrees give undergraduates a great start to their careers, with many moving straight into jobs at the likes of EY, L'Oreal, Johnson & Johnson, Accenture and Aston Martin.
Sue Newell, Associate Dean for the Undergraduate Programme, said: "This is excellent news for the school, and following on from the Government's announcement to maintain fees for EU students at UK levels for 2020 entries, will be a great boost in attracting the very best students to WBS.
"We work hard to make sure our students not only have the technical knowledge but learn to think critically and develop the attributes needed to succeed in their careers.
"Our undergraduate courses are highly demanding of students, but represent a great return on investment in helping graduates find the career path they aspire to."
For the full The Guardian University Guide 2020 ranking click here.