National Student Survey sees 88 per cent satisfied
05 July 2019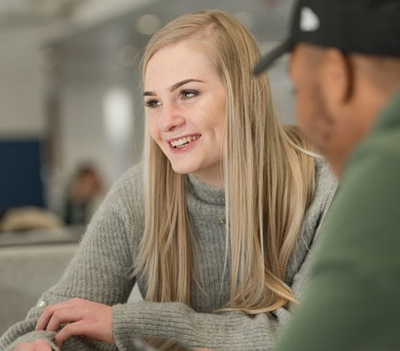 Huge majority of undergraduates "satisfied" with undergraduate course
Academic support singled out by students as a highlight at WBS
Multi-million pound refurbishment of campus will further improve experience
Employer events with the likes of L'Oreal, EY and Aston Martin available
Warwick Business School has been given the seal of approval by undergraduates with 88 per cent satisfied with their course in the National Student Survey (NSS).
Around 330,000 students at 400 universities, colleges and other providers across the UK completed the 2019 NSS with WBS beating the national overall satisfaction score of 84 per cent.
At WBS 81 per cent of its 581 final-year undergraduates filled in the survey with students especially impressed with the support they received from academics as 89 per cent agreed they had been "able to contact staff" when they needed to, while 94 per cent agreed they had been given the "right opportunities to work with other students" as part of their course.
Andy Lockett, Dean and Professor of Strategy and Entrepreneurship, said: "We are constantly looking at ways to help our students get the best out of their time at WBS, using the feedback we get from students to guide us in making improvements.
"We work hard to put the student at the centre of everything we do to create a supportive and rich learning experience. Undergraduates have the opportunity to spend a year abroad or gain a work placement, while on our ever-evolving campus they can take advantage of the University's new £49 million Sports and Wellness Hub and £21 million is being spent on a major refurbishment of the Arts Centre.
"As well as superb facilities our careers team make sure undergraduates have every opportunity to move into the career of their dreams with bespoke employer events from the likes of Johnson & Johnson, L'Oréal, EY and Aston Martin.
"Our student platform my.wbs, built in-house, along with drop-ins and personal tutoring ensure undergraduates gain quality support during their studies and illustrates how we genuinely care about their welfare and experience here. This, I am heartened to see, is reflected in an excellent NSS score."
Warwick Business School's undergraduate courses are consistently ranked among the best in the country, with its BSc Accounting & Finance degree rated third in the UK by The Times and Sunday Times Good University Guide and The Guardian University Guide, while the school is also placed third for Business Studies by The Times.
WBS is also part of the ICAEW Undergraduate Programme Partnership, giving students a head start in a career in accountancy, while studying the flexible management courses allows students to shape their modules to the sector or profession they want to graduate into.
The school has also become the first business school to be granted the Athena SWAN silver award for its work on improving gender equality.
Sue Newell, Associate Dean for the Undergraduate programme, said: "The high levels of satisfaction reflect the way we listen to our students and look to include them in every decision we make.
"We have world-class faculty teaching our students and they are working at the cutting edge of their research disciplines, which ensures students graduate with the most up-to-date knowledge in their chosen field.
"Outside of study there is the chance to participate in a huge range of societies and sporting clubs to give undergraduates a truly holistic student experience."
Find out more about the National Student Survey here.