A week in the life of an MSc Business with Consulting student
18 March 2022
MSc Business with Consulting ambassador, Anamya, shares what a week in her life as an MSc student looks like.
My first semester is finished, and while I ignore the ever-looming threat of ''what comes after my masters'', I reflect on what a day in the life of a business student looks like. There are many buzzwords - networking, meetings, presentations - that one thinks of when they think of ''business student''. I cannot deny that they form a significant part of our days, but there is also much more to it!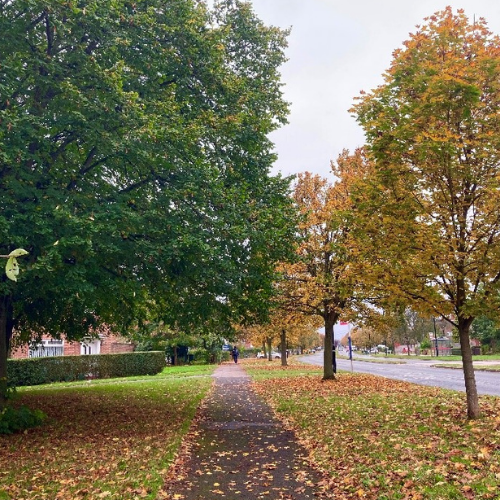 Starting the week
Let's start with a Monday morning, I wake up at around 6am to give me ample time to read over any case studies I've missed. I live off-campus, so for a 9am class I know I need to leave by 8:10am. In a quest to be wiser with my money, I've been having coffee and breakfast at home. Breakfast is usually accompanied by reading the news, I conveniently get an email with bite-sized news from the Financial Times and the Guardian every day at 7:30am.
I prefer to walk to campus, especially during fall and spring when the colours wake you right up! You get used to the perpetual rain and with the winds an umbrella does not help anyway!
Lectures, group work, and almond croissants from the WBS café
Classes are just an hour long and very interactive so you have no problem focusing on the lecture. I usually get there a bit earlier than the scheduled time and talk to either my professors or classmates. After class, I often find myself in group meetings. Collaborative group work is a substantial portion of most modules so there is never a dearth of group meetings. It is great for people like me who love learning from and working in diverse teams!
With group meetings come presentations so I utilise my time before seminars by designing templates on PowerPoint - no, it is not a myth that half of what we do is make presentations! The best snack while doing this is the almond croissant from the WBS café. Ashamedly, I'll admit that they are at least 30% of my diet now.
Networking and applying to graduate schemes
The week is a blur, you're always busy with case studies, classwork and assignments but it is quite rewarding! Amidst all that there is to do, I reserve at least a day a week to network and apply for graduate schemes.
Networking is conveniently remote right now so you should prepare for LinkedIn being your most used social media app. When I'm not studying, I am either preparing for or giving interviews. A professor once told us, ''Interviews are like exercise, the more you do it, the better you get at it''. Clearly, I've been following her advice to the T.
When the weekend finally rolls around!
When it is finally Friday evening and I'm mostly free from academia, I like to hang out with my friends. Warwick is close enough to both Coventry city centre and Leamington Spa, so you have a great selection of pubs and restaurants to choose from.
In fact, if you want to keep travel to a minimum, there are some brilliant places inside the campus. I am partial to Varsity for their great selection of gin, but Fusion isn't half bad either!
Weekends are for rest and grocery shopping. I really enjoy cooking so I use Saturdays to meal prep and plan the week ahead. Your best friend will be a planner, a lot of my friends use Notion but I cannot resist the charm of a physical planner.
I spend my Sundays relaxing and studying for the week ahead. I've found that completing a majority of tasks before Monday really makes the week go smoother!
By Sunday evening, I'm tucked in bed watching a movie and anticipating what the next week will bring. More case studies? I guess. More business articles? Sure. A surprising amount of academic reading? Perhaps. Another week of experiences that go beyond the textbook? Absolutely!
No week at Warwick is the same, there are always new events to attend and new things to learn but one thing that is constant is that you'll never be bored!
Find out more about the student experience at Warwick Business School by reading our Postgraduate blog, or discover more about MSc Business with Consulting on our course webpages.