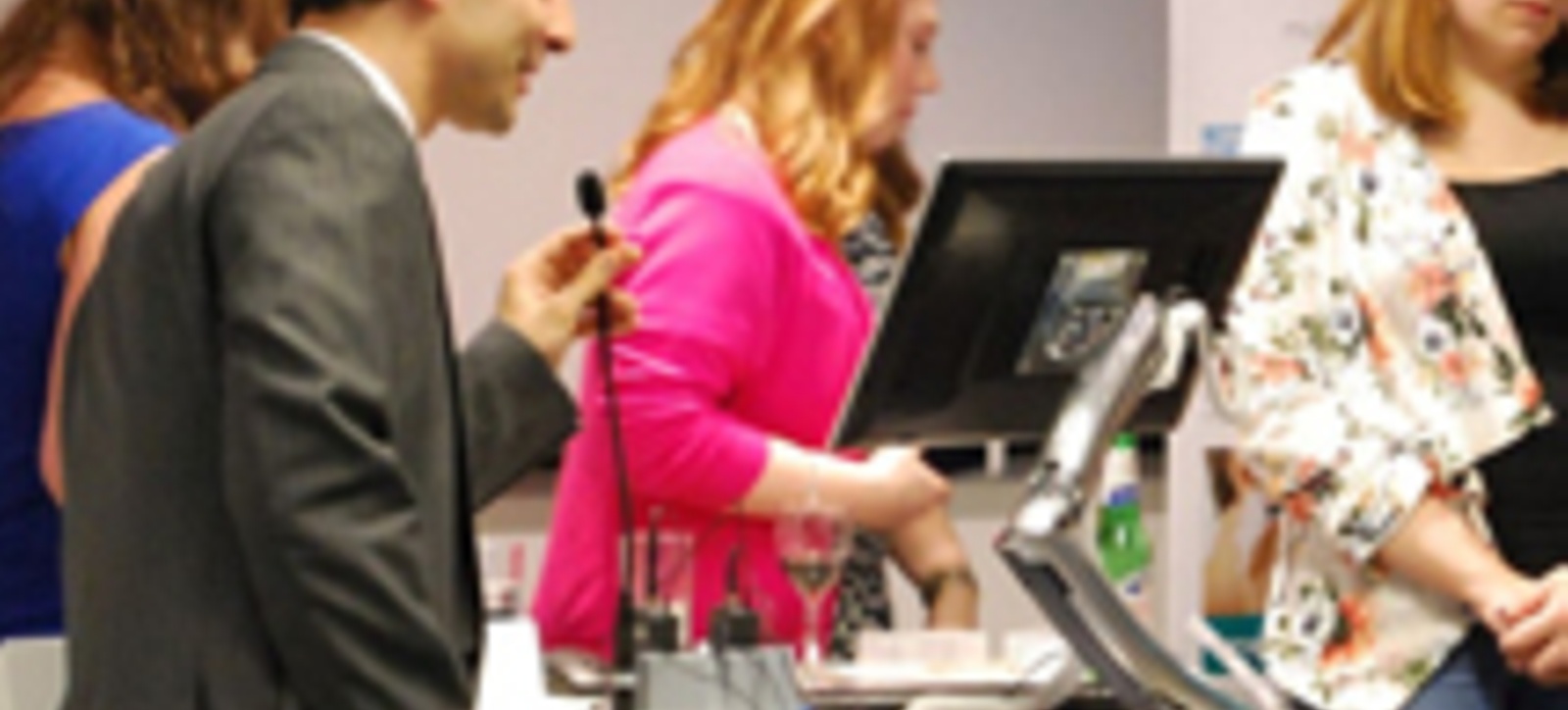 Host of top companies meet Warwick students at WBS London
Companies included Cowry Consulting and Hill + Knowlton Strategies
Wide range of career paths emerging for behavioural science graduates
More than 130 Warwick students meet firms looking for their skills
The Behavioural Science Networking Event is becoming a regular happening in the behavioural science panorama in the UK and reaching new heights.
On a fully-booked event at the WBS London base at The Shard, behavioural science practitioners from 19 world-leading organisations joined almost 140 students to interact and share knowledge.
This event was jointly sponsored by WBS, the Department of Economics, and the Department of Psychology, and developed under the umbrella of the University's Global Research Priority (GRP) in Behavioural Science.
Welcoming the attendees, Sebastiano Massaro, Assistant Professor in the WBS Behavioural Science Group at WBS and co-lead of the GRP said: "Behavioural science is an innovative proposition in the higher education scenario and is already showing a strong impact on society at large.
"Amongst the Russell Group Universities, Warwick is the only one who has gathered together various disciplines and departments under a dedicated research priority in this area.
"Added to this, Warwick is one of the leading hubs for behavioural science research and education in the UK, and WBS one of the very few business schools worldwide equipped with a dedicated group of scholars and students able to organise this kind of events."
"What makes this event unique is that it is centred on and largely developed by students with the aim to prepare them to face a job market increasingly eager to recruit behavioural science graduates."
Evan Fradkin, a PhD Candidate at WBS Behavioural Science Group and a co-organiser of the event, echoed this feeling. He said: "The Behavioural Science Networking Night continues to be the best place for students in behavioural science to meet professionals in their field from leading organisations such as the Behavioural Insights Team, IBM, and Ogilvy Change.
It's also a great opportunity to meet other students with similar interests".
The event, which occured on March 7, was a big hit with students and guests a like.
Etinosa Agbonlahor, an MSc Student at Warwick, added: "Networking at the Shard was a great opportunity for my course mates and me to get a good sense of the diverse range of companies applying behavioural science insights both in the UK and internationally. I enjoyed the opportunity to establish relationships with practitioners who I can collaborate with in the future."
Donal Connolly, a Warwick student, said: "Often when you're hidden away, studying in the library, it's hard to get a bigger picture of how behavioural science is applied and used in the real-world. Events like this are a brilliant way to meet with people that are putting to use the knowledge we're learning about in class. The evening has been a useful opportunity to meet interesting companies and begin to focus my search for potential careers after I leave."
This enthusiasm was fully matched by practitioners. As Jez Groom, Chief Choice Architect at Cowry Consulting, put it: "For a fast growing BE consultancy, The Warwick Behavioural Science Event gave Cowry a great window to an array of emerging talent in our area. We already have a significant number of catch-ups with candidates in our diaries!"
Dan Berry, Behavioural Strategist at Hill + Knowlton Strategies confirmed the success and sustainability of this event: "The behavioural science networking event at WBS Shard has got bigger and better for each of the three years I've attended.
"As an exhibitor (and a Warwick graduate myself) it's impressive to see the number and range of emerging behavioural scientists. I've been lucky to go on to work with some great postgraduates after previous events. I hope to do so again with colleagues interested in applying their skills in the communications industry. Thanks to WBS for organising such a mutually beneficial event."
Follow the Behavioural Science Global Research Priority on Twitter at @GRPbsci.