Rana Plaza Accord a template for global worker rights
12 November 2015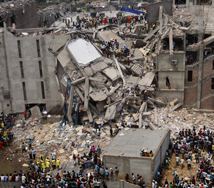 Rana Plaza collpase sparked worldwide outrage
Legally-binding Accord signed by 180 brands in just weeks
Unique combination of Trade Unions and campaigners worked
Study finds it could be template for other global supply chains
Workers in developing countries can use the Accord signed by the likes of H&M, Primark and Zara following the Rana Plaza disaster as a template to improve their own safety and conditions, according to academics.
For the first time a new study has looked into the frantic negotiations and brinkmanship that brought about the landmark agreement.
In April 2013 1,129 workers died and more than 2,500 were injured when the eight-story Rana Plaza complex collapsed in Dhaka, Bangladesh. The building housed factories that supplied clothes to household brands like Primark, Matalan, Benetton, Monsoon and Walmart.
Worldwide outrage and pressure from trade unions, campaigners like Clean Clothes Campaign and online groups such as SumOfUs and change.org, saw 180 multinational companies sign a legally binding Accord that forces safety inspections on the factories they use in Bangladesh and legal action if they don't adhere to it.
In After Rana Plaza: Building power for labour between unions and (consumption-based) social organisations published in Organization, Juliane Reinecke and Jimmy Donaghey, of Warwick Business School, interviewed 29 bosses, campaigners and union officials to detail the steps made to form the Accord.
"Groups like Worker Rights Consortium and trade unions had been campaigning for years for the multinationals to do something about building safety with no success," said Professor Reinecke. "There had been deadly fires and building collapses since the mid-2000s, so to have an Accord signed by so many companies just weeks after the Rana Plaza tragedy is an amazing achievement.
"The Accord is unprecedented in its scope and legally binding nature. Unlike International Framework Agreements, which are agreed between one multinational and a global union, the Accord covers 180 brands to share costs, responsibility and risk, providing a cost-effective way for smaller companies to ensure safety standards. And if they don't adhere to it legal action can be taken against them.
"The Accord shows that geographic and economic differences within global supply chains may mean that unions and campaign groups need to move towards working together. The utilisation of trade union and campaign groups' complimentary skills could prove an important part of extending regulation of employment into other less regulated supply chains in developed countries."
The academics found that the unions - IndustriALL and UNI Global Union - did the negotiating with the companies but talked to campaigners Clean Clothes Campaign and Worker Rights Consortium on an almost daily basis. If negotiations were not working the unions would release the campaign groups to target those companies with online petitions, bad press and demonstrations outside their stores. The mere threat of consumers' boycotting a brand or a campaign that affected a firm's reputation was enough in some cases.
"This was very different from one union negotiating with one employer," said Professor Donaghey. "That hadn't worked in Bangladesh. Consumer-based activism alone can often be short-term and lack a meaningful outcome other than brand damage. Yet when harnessed with the negotiating skills and power of unions it proved to be a powerful mix.
"Companies have moved manufacturing to the developing world to avoid high regulatory standards, as is the case in Bangladesh. Not only is the labour cheap in Bangladesh, with the lowest minimum wage set at $43 per month, but Bangledeshi-owned factories mean Western firms have no legal liability over labour abuses. And a weak state and low union organisation led to a downward spiral in safety terms."
An example of the unions and campaigners working together was when they targeted H&M, the largest buyer from Bangladesh's garment industry, which employs four million people and amounts to 13 per cent of the country's GDP.
UNI Global Union used Swedish retail workers union, Handels, to meet H&M bosses at its Swedish headquarters threatening action, while they put an advert in one of the country's biggest papers calling for them to sign the Accord. Meanwhile, H&M were aware Clean Clothes Campaign was preparing to mobilise consumers against them. The pincer movement worked, H&M became the first to sign the Accord.
Sometimes, though, the trade unions found the campaigners unworkable. Online campaigners started a petition against Topshop, but they were already in negotiations with unions and threatened to walk away if they were publicly campaigned against. After hasty conversations the petition was withdrawn and Topshop signed.
Professor Reinecke added: "These social movement groups are not a panacea for developing labour rights in emerging countries. They lack meaningful enforcement, often focus on easy targets rather than the worst offenders and lack a democratic mandate by those workers affected.
"But working with trade unions, who are viewed by many of the brands as being legitimate 'insiders' because they share a mutual interest in the well-being of the company and responsibility for the success of collective agreements, there is the template for a coalition to be used in other supply chains in developing countries."
Professor Juliane Reinecke teaches Ethical Issues & Social Responsibility in Contemporary Business on the Warwick Business School Undergraduate programme, Governance and Corporate Responsibility on the MSc Management and Work and Human Resources in Global Context on the MSc Human Resource Management & Employment Relations. She also lectures on Sustainability and Business Ethics on the full-time MBA.
Professor Jimmy Donaghey teaches International Management in Context and International and European Employment Relations on the Warwick Business School Undergraduate programme. He also teaches Work and Human Resources in Global Context on the MSc Human Resource Management & Employment Relations.