WBS OSCA winner discusses 'conscious capitalism'
29 July 2015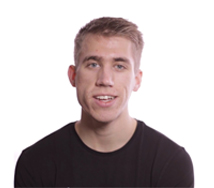 WBS Management graduate Stefan van der Fluit has featured in a new magazine designed to highlight disruptive design and innovation and how it can bring positive changes to the world.
The feature Embracing Conscious Capitalism discusses what Stefan refers to as conscious capitalism and appears in volume one of World-Makers magazine.
Across the multiple page feature Stefan discusses the concept of being a conscious entrepreneur and how it means doing business with "your values intact". The feature is part of the first edition of the magazine, available on the World-Makers magazine website.
The article comes just weeks after Stefan picked up this year's Outstanding Student Contribution Award (OSCA) at this summer's graduation ceremony.
Stefan, who has spent time in Holland, the Silicon Valley in California and in Germany, is somewhat of an online business guru – establishing his own business, Nuklius, while studying.
It was his business acumen and willingness to help fellow students with their own startup businesses that made Stefan the stand out candidate in this year's OSCA nominations.
Stefan said he was delighted to be awarded the OSCA, an annual award given to a University of Warwick student for exceptional achievement in contributing to the university community outside of their studies.
Stefan, who graduated with a 2:1 in BSc Management, said: "It was a nice surprise, I was quite honoured. I love helping entrepreneurs and anything start-up related on campus. We set up a couple of initiatives and I was already happy to meet up and give time to people.
"I'm proud of this for my parents, but also the extra tickets allowed my whole family to come as an entourage!"
The official nomination for Stefan emphasised it was his exceptional enthusiasm for entrepreneurship, having cofounded several start-ups whilst at Warwick, that made him stand out from the crowd.
Stefan helped and encouraged many students to start their own businesses, while always making time to meet with those who seek his advice.
He was a key driver behind initiatives such as the growth of Warwick Incubator, the setup of Warwick's fast growing student society, Warwick TECH, and the establishment of 'Campus Startup' – aiming to give a group of students with entrepreneurial passion a place to meet and share ideas.
He has delivered guest talks at various universities and conferences to share his experiences and knowledge, and has delivered a TEDx talk on the subject of his first magazine article, Conscious Entrepreneurship – business not only for profit but also for the benefit of others.