Prof Wood named editor of journal ranking guide
22 July 2013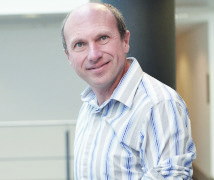 Professor Geoffrey Wood has been appointed Editor of the journal ranking guide, the International Academic Journal Guide, by the EAJG.
The Professor of International Business and Associate Dean at Warwick Business School was Professor in the School of Management at the University of Sheffield, and Associate Dean of the School.
Professor Wood said: "I am delighted to have been appointed editor of the EAJG journal ranking index for business and management studies, and am looking forward to working with colleagues on the EAJG's Guide Secretariat, and in engaging with the wider peer community, in developing and enhancing an objective yardstick of publication quality that will help guide scholars in business schools and the wider scholarly community in judging the worth of scholarly publications.
"The great strength of the Guide - as with its predecessor, the ABS list - is that it allows scholars to compete on an equal footing; this is particularly important for emerging scholars who lack access to sometimes closed networks."
Professor Rolf D Cremer, Chair of EAJG, former President of EBS University, Germany, and Dean Emeritus, CEIBS, Shanghai, welcomed this appointment and said: "We are delighted to be able to make this announcement, the REF and increasing importance of impact are at the forefront of many academics' minds, and having appointed such an illustrious editor and board will enable us to provide a wide impartial authoritative guide to journal quality in the broadly defined field of business and management".
The Guide will be available from the website in the latter part of 2014. The scientific committee will be in consultation with scholarly associations.
Professor Geoffrey Wood teaches Managing in a New World on the Warwick MBA by full-time study, Global Business Strategy on the MSc Marketing & Strategy and International Business Strategy on the Undergraduate courses.