Research on Steve Jobs nominated for an award
27 July 2015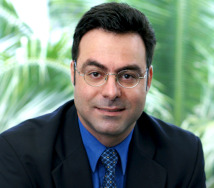 A paper on the rhetoric of Steve Jobs by Loizos Heracleous, Professor of Strategy at Warwick Business School, has been nominated for a prestigious best paper award.
The research, entitled Charismatic Leadership and Rhetorical Competence: An Analysis of Steve Jobs' Rhetoric, has been nominated for the Best 2014 Group & Organization Management (GOM) Paper.
The Best 2014 Group & Organization Management Paper award will be announced at the Annual GOM Luncheon to be held at the upcoming Academy of Management meeting at the Hyatt Regency's English Bay Room in Vancouver on Sunday August 9.
Professor Heracleous' paper written alongside Laura Klaering, also of Warwick Business School, was published in Group & Organization Management, and looked at how Jobs adapted his rhetoric for different situations.
The late Apple boss was a master of the art of effective and persuasive speaking, employing various strategies to adapt to differing scenarios and situations, while still delivering a constant message, according to Professor Heracleous.
Professor Heracleous said: "Our research highlights how it is important for leaders first to be clear about the central themes they wish to emphasise and second to employ these across all situations where they have to speak publicly, no matter what the context."
The paper examined Steve Jobs's rhetoric in three different situations, a deposition by the US Securities and Exchange Commission (SEC) in March 2008 relating to allegations of backdating stock options, a TV interview with CNBC in June 2005 and an onstage discussion at the D8 All Things Digital Conference in June 2010.
The researchers examined in detail how he used Aristotle's classic tools of persuasion: ethos – Jobs's credibility in the situation – how Jobs used pathos – appealing to the audience's emotions – and logos – the extent to which he used logical arguments.
"Our findings suggest that charisma is not an ineffable, magical quality as classically understood, but can rather be seen as a consequence of the relationships among leader, audience and context," added Professor Heracleous.
Professor Loizos Heracleous teaches Strategy and Practice on the Warwick Executive MBA and MSc Marketing & Strategy.
Follow Professor Loizos Heracleous on Twitter @strategizing.