Two WBS academics win best paper prize for SME research
06 May 2015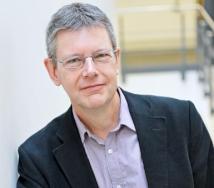 Two Warwick Business School professors have won a prestigious award for their academic research.
Jim Love, Professor of International Business and Innovation and Stephen Roper, Professor of Enterprise won the Palgrave Macmillan Prize for best competitive paper at the Academy of International Business UK and Ireland Conference 2015.
Professor Love said: "We are absolutely delighted to win this prize. It is recognition of the excellent research being carried out at both the Enterprise Research Centre and Warwick Business School."
The Enterprise Research Centre is jointly based at Warwick Business School and Aston Business School and was established in 2013 with a focus on the factors which drive growth and productivity in small and medium-sized businesses (SMEs). The theme of SMEs was central to the winning paper.
The pair, alongside Ying Zhou of Birmingham University, won the award as part of the 42nd AIB-UKI Conference held between 16-18 April at Manchester Metropolitan University for their paper Experience, age and exporting performance in UK SMEs.
The researchers used UK Trade & Investment International Business Strategies, Barriers and Awareness Surveys data derived from respondents with fewer than 250 employees, from 2011-2013 to investigate exporting performance in UK SMEs.
They showed there is a strong link between the international experience of UK SMEs and the number of countries that they export to.
More experienced exporters are also more likely to export a greater proportion of their total sales.
Professor Roper believes the paper shows experience to be vital to success for SMEs when it comes to exporting.
He added: "In achieving exporting success it seems to be experience that really matters. Some firms accumulate that experience by selling overseas for some years. Others buy in that experience by hiring managers with international experience in their previous jobs."
Professor Jim Love teaches International Business on the Warwick MBA, Executive MBA and MSc Management. Professor Stephen Roper is Director of the Enterprise Research Centre.