Undergraduates win $15,000 The Economist competition
08 June 2015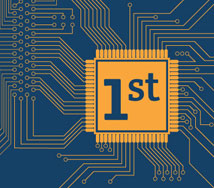 A team of three undergraduate students at Warwick Business School have emerged triumphant in The Economist's first ever undergraduate Kerrisdale Capital Investment Case Study competition.
Alessandro Presa Perez, a BSc Accounting & Finance student, alongside Ivan Pedretti and Toby Bardavid, both BSc Management students were awarded a $15,000 prize pot as well as a trophy to mark the achievement.
The trio had two weeks to prepare a draft proposal on an intriguing business problem entitled Find a Zero: Which Billion Dollar Company Will be Bankrupt by 2020.
They forecast Advanced Micro Devices Inc. (AMD) will be the company to fail and file for bankruptcy by 2020 in a 15-minute webinar, which left the judges decidedly impressed with the level of business analysis and research.
Sahm Adrangi, Chief Investment Officer at Kerrisdale Capital, the sponsors of the competition, said: "We were deeply impressed by this year's submissions for the Kerrisdale Capital Investment Case Study Competition.
"We chose the top three contestants on the merits of thoroughness clarity and plausibility of bankruptcy in the next five years, after all, this contest was to find a zero.
"A passion for business analysis was apparent in each selection.
"This year's winner though, was Warwick Business School. Their submission portrays AMD as a legacy business reliant on declining desktop sales alongside a brutally competitive global market.
"They portrayed a compelling argument for a company that may indeed go bankrupt in 2020. We congratulate them on their efforts and wish them the best as they pursue their future endeavours."
Alessandro added: "We are absolutely delighted to win The Economist's Investment Case Study challenge! The competition was fierce and other universities did a really good job with their pitches.
"It is a fabulously rewarding result because we were under demanding time constraints and still managed to deliver a credible proposal."
Ivan said: "Instead of going with the market theme of oil frackers' bankruptcies, we went for something a bit more original to wow the sponsors and demonstrate our ability to quickly grasp the fundamentals of an industry that we were not familiar with. We put a lot of hours to analyze AMD, which was a great way to apply the knowledge we accumulated during 3 years at Warwick.
Toby added: "We couldn't wish for a better way to end our degree and show how valuable it has been to us. We are extremely proud of what we have accomplished together as a team – it certainly demonstrates that we are a bright bunch!"
Professor Louise Gracia, Associate Dean Undergraduate Programme at WBS, said: ""It is great to see Alessandro, Ivan and Toby emerge victorious in The Economist's first ever undergraduate Kerrisdale Capital Investment Case Study competition.
"Congratulations to the team who can be very proud of their achievement and are another example of WBS students excelling not just at a university level, but in global competitions too."
"They have put into practice a number of skills they have developed at Warwick and worked hard to construct a compelling case and webinar that obviously caught the judges' eyes. They've also demonstrated great team-work, communication skills and creativity to win first prize and secure recognition for their exemplary efforts.
"Hopefully their victory will inspire future WBS undergraduates to enter this competition in the future and stake their own claim with a similarly excellent performance."
Mark Taylor, Dean of Warwick Business School, added: "It is great to see a team from WBS win the inaugural Kerrisdale Capital Investment Case Study competition, my congratulations to them. This is a fantastic achievement, and a testament to their analytical skills and keen insights into the business world.
"At Warwick we aim to be the leading university-based business school in Europe and our undergraduate team beating competition from across the globe is recognition of the hard work and commitment put in from everyone involved."
Read more about the BSc Management here or click on the link to find out more about the BSc Accounting & Finance course.