WBS team wins £15,000 at SWIFT Fintech competition
25 April 2016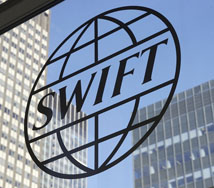 Team of Masters students wins Dragon's Den style competition
HADU will develop Fintech idea to present at SWIFT's annual conference
They tackled problem of remittance payments via banks in the UK
One of four WBS teams to reach the final in London
Six students from Warwick Business School have won £15,000 after their Fintech idea wowed judges at the SWIFT Business Forum London.
HADU, made up of Fiza Hussain, Sneha Sunkara, Mohammed Dankwambo, Yunjing Li, Yat Hung To and Qotrun Nada Haroen, beat six other teams - including three more from WBS - in the final to win the inaugural SWIFT Institute Challenge.
The MSc Information Systems Management & Innovation students were presented with the cheque by Harriett Baldwin, Economic Secretary to the Treasury, and they also won a trip to Sibos, the annual financial services event held in Geneva this September by SWIFT (Society for Worldwide Interbank Financial Telecommunication) - the global network that enables financial institutions to send and receive information about financial transactions.
Tasked with identifying a solution to address the challenge of remittances via banks in the UK, HADU presented a solution that focused on using near sound data technology to deliver mobile money and a network of branded high-security buses to do the 'last mile' and deliver the cash in Indonesia.
"We are very proud of the students," said Markos Zachariadis, Assistant Professor of Information Systems Management & Innovation and co-author of The Society for Worldwide Interbank Financial Telecommunication (SWIFT): Cooperative governance for network innovation, standards, and community.
"This is a great win for WBS and the University that reflects the quality of the research and teaching at Warwick. The SWIFT Institute Challenge has provided a great opportunity for students to work on real issues from the financial industry. Congratulations to all the finalists and to the winning team.
"Our Fintech module (called Global Finance and IT) at the school is part of our MSc in Information Systems Management & Innovation course and has been going for three years now, with our graduates landing jobs in major financial institutions and already making an impact.
"We will seek to develop more Fintech initiatives in the coming years."
The 2016 Challenge was open to any UK-based recognised university, or centre of learning, with an interest in banking and asked students for a solution that would enable someone to send money from their UK bank account to an individual in a country where there is little or no banking infrastructure.
Held at the Tobacco Dock in London, each team was given 10 minutes to pitch their idea to the judges who came from across the financial services industry.
"Never in our wildest dreams did we think we'd make it this far, let alone win," said Fiza. "I think this has really put WBS on the map and we couldn't have done it without Markos and the WBS administration. Their encouragement and support truly inspired us. We are very excited to develop the idea."
Three other teams from WBS took part in the final: Bluebird (Fatima Ibrahimova, Alaa Alsairafi, Yiwen Zhang, Sherry Shen, Michael Ramer), Transfree (Yaqi Yang, Feng Xing, Shanshan Wu, Yao Li, Li Wang) and Local Pay (Xinyue Yao, Xuewen Yao, Haolin Wang, Bo Han, Yu Jing).
They took on teams from King's College London, Queen Mary University of London and London School of Economics and Politics, with HADU coming out on top.
"I am very honoured to be the member of such an excellent team, and after this experience, I really believe that hard work does get rewarded," said Yunjing, of HADU.
Team-mate Yat said: "Winning the SWIFT challenge has made me realise that for one person sometimes it is impossible to complete a mission, but being a team can provide the synergy effect that can finish seemingly impossible missions."
"To be able to participate and be a part of a solution for a real-world problem is such an honour," said Qotrun.
Sneha added: "Presenting at the Business Forum London was a great experience. It's so nice how welcoming and tightly connected the industry is. I am looking forward to implementing our idea - shout-out to Markos for such an amazing opportunity!"
HADU will have their travel and expenses paid for to attend SWIFT's annual financial services event, Sibos, and the opportunity to pitch their developed solution at the conference in Switzerland.
Commenting on the Challenge, Ms Baldwin said: "Innovation in payments solves real-world problems and has the ability to change how we, as consumers, interact with our money. That's why it's so exciting to see the projects from today's SWIFT competition teams looking at how we can make remittances easier, cheaper and more efficient for people in the UK and around the wold.
Thinking outside the box
"Financial technology plays a vital role in stimulating greater competition, improving access and helping to drive transaction costs down. That's just one of the many reasons the Government is doing all it can to support the UK's dynamic Fintech sector."
Peter Ware, Director at SWIFT Institute, said "This is the first year for the Challenge, and we have been very impressed by the quality of the submissions and presentations from the UK Universities involved.
"An interest in banking is important but equally, so is an enthusiasm for devising new and cutting-edge ideas that could really make a difference. They all understand important world issues and are able to think outside the barriers that can exist in a corporate mindset."
Markos Zachariadis teaches Data & Business Intelligence and Global Finance and IT on MSc Information Systems Management & Innovation and Business IT and Services on MSc Management.